"Well, why share this delectable cheese with the children?! I discovered this recipe whilst at home in England - it was on a leaflet given out by the Lincolnshire Poacher Cheese company - I have made these twice now, and this is my slightly adapted recipe based on the original. A little bit of history about this superb English cheese.......Simon Jones, who started to make Lincolnshire Poacher, is the fourth generation to be running the farm, which has been in the family since 1917. It is situated on the edge of the beautiful Lincolnshire Wolds about ten miles from the east coast. The lush pastures sit on chalky land, which enables him to have a successful dairy herd in an area where dairy farms are very scarce and cheesemaking is virtually unknown. This cheddar-like unpasteurized cheese is the Supreme Champion at the British Cheese Awards, and is buttery, smooth, and nutty in taste. The sharp flavour will linger on your palate. It is aged anywhere from 18-24 months."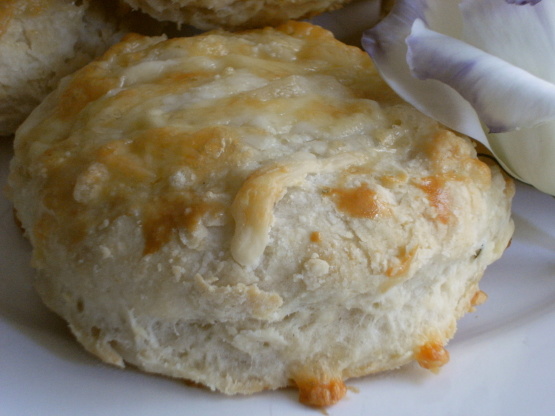 Lincolnshire Poacher Cheese Scones - Strictly for Grown Ups!
4 recipe photos
Directions
Pre-heat oven to 180°C.
Sieve flour & baking powder and salt, then add butter and rub together.
Then add 5oz of the grated cheese followed by the eggs.
Continue to work the mixture together by hand.
With the ingredients worked in, pour the mixture out of the bowl onto the worktop.
Gradually add the milk into the mixture as it is worked together.
Use a little flour to stop the dough sticking to the worktop.
Gently roll out the dough to about 1" - 1 1/2" inch thick, then using a pastry cutter (2" diameter).
Cut out, arrange on a greased baking tray.
Brush with egg-wash, as an option the remainder of the cheese could be sprinkled on top, bake for 10-12 minutes.
Serve hot, split and spread with butter!