"Little Tavern Shops is a defunct chain of hamburger restaurants in Baltimore, Maryland, and Washington, D.C that appears to be on the cusp of a revival. The slogan of the chain was "Buy 'em by the bag", and its signs promised "Cold drinks * Good Coffee". The stores were quite small and could accommodate only a few seated customers, while most business was take-out. This recipe is posted in response to a HUGE forum discussion. If you wish to make larger patties, roll the meat into 1.7 ounce meatballs and cook as directed."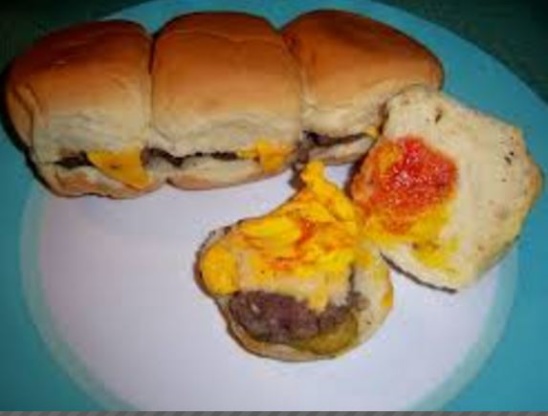 Little Tavern Shops Hamburgers
1 recipe photo
8

ounces hamburger, rolled into 1-ounce balls

4

teaspoons dehydrated onion, reconstituted in warm water

salt and pepper, to taste

hamburger dills, slices

8

dinner rolls, sliced
Directions
Place meat balls in a hot pan or flat-top griddle.
Add a good pinch of the onions to the top of each meat ball (about 1/2 teaspoon each).
Smash each meat ball flat with a spatula and cook for a minute or so.
Flip each burger, add salt and pepper to taste.
If you wish, toast/fry the split rolls in the burger grease as the meat is cooking (this is optional).
Remove rolls from grill and place a slice of pickle on each one.
Once the burgers are cooked (they are very small, it won't take any time at all) place one on each roll.
At the restaurant, the burgers were put in a steamer drawer to hold until sale. You may have to come up with some sort of steaming device. Try paper towels or "Handiwipe" towels, soaked in water (and squeezed out to "damp"), to cover the burgers while in the steamer drawer.
Serve with condiments of your choice.