"From my Quinoa Red booklet recipes."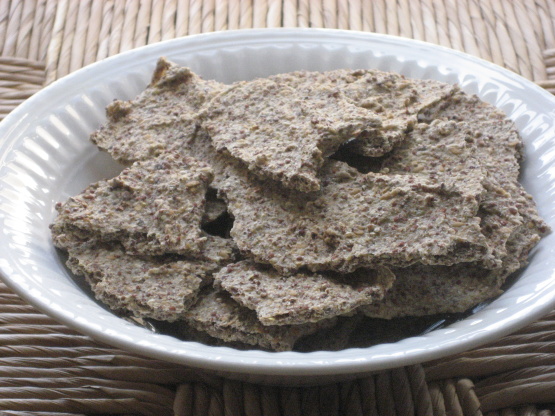 Live Food Crackers
2 recipe photos
2⁄3

cup red quinoa mixed sprouts

2⁄3

cup white quinoa mixed sprouts

1⁄3 cup soaked sunflower seeds
1⁄3 cup soaked flax seed

spices
Directions
To sprout Quinoa: cover with water using 2 cups water to 1 cup Quinoa. Soak for 12 hours. Use running water and place the grains in a sprouting jar [has screen or cheese cloth lid] Rinse the seeds twice a day. Lay the jar sideways to give room to grow. Cover jar with a dark cloth loosely so air can move through. Grain is soft when finished and best used in 2 to 3 days.
Crackers:.
Place all in a juicer that has no screen. Catch the puree in a bowl. Mix your favorite herbs and spices in plus salt to taste. Example vegetable salt.
Spread mix thinly onto a piece of parchment paper that fits your food dryer tray. Dehydrate the cracker mix for approximately 12 hours at 110°F Store in air tight container. IF your oven goes that low you can use it. Use oven thermometer to be sure.