"Lo Han Jai, also known as "Buddhist Vegetarian Stew," is traditionally served on the first day of the lunar Chinese New Year, to cleanse the body. Since ingredients for Lo Han Jai are not easily available in most food markets, this is a simplified version. Although the list of ingredients appear lengthy, once everything is gathered, the cooking is easy. This recipe comes from the Wok Wiz (San Francisco, CA) website and is copyrighted by Wok Wiz -- the URL is http://www.wokwiz.com/recipes/lo_han_jai.html"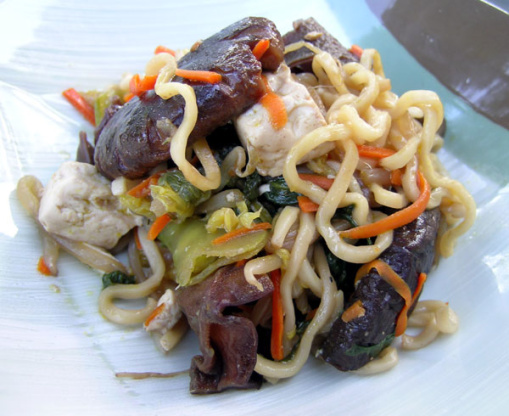 Lo Han Jai - Buddhist Vegetarian Stew
1 recipe photo
READY IN:

40mins

SERVES:

4

UNITS:

US
Directions
Soak the mushrooms in hot water for 10 minutes; squeeze out the excess water; then remove stems and leave the mushrooms whole. Reserve the soaking water.
Soak the cloud ears in warm water until soft (about 10 minutes), then cut into smaller pieces.
Boil the bean thread in water to cover for 5 minutes, then drain.
To prep the snow peas, remove the strings, then cut into thin slivers.
Mix the water and cornstarch to form a slurry for thickening. The cornstarch will continue to settle out, so you'll need to stir this again just before you use it.
Heat wok until smoky. Add vegetable oil. Stir-fry mushrooms, cloud ears, bamboo shoots, water chestnuts, carrot, cabbage and cook for 3-4 minutes over high heat.
Add bean thread and broth. Cover and cook for 5 minutes over low heat.
Add tofu, bean sprouts, snow peas and soy sauce. Cover and simmer for two minutes.
Stir the water and cornstarch mixture, then add to the pan to form a light gravy, adjusting if necessary.
Drizzle with sesame oil.
Note: Traditional Lo Han Jai ingredients include: ginkgo nuts, lotus root, dried oysters, lily stems, seaweed hair, fried tofu, and dried bean curd sticks. If you live near an oriental market, you may be able to get these; if not, this simplified recipe will give you a sense of the dish.