"If you love coconut and pecans, you'll love these cookies! These little cookies are nice and soft and are packed full of coconut and pecan flavor. I got the recipe from a friend but made a few changes to fit my tastes. Delish!"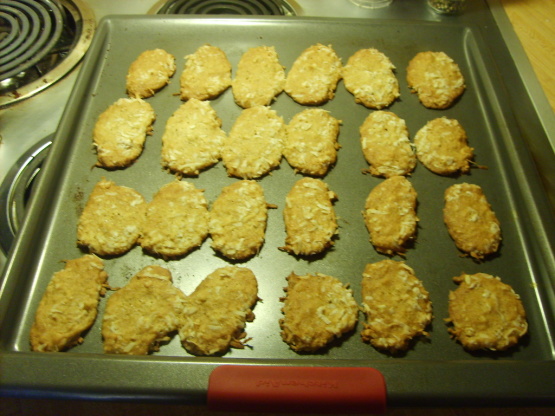 Loaded Coconut Pecan Cookies
1 recipe photo
Directions
Cream butter and sugar together in large bowl. Mix in egg and vanilla.
Mix in 1 cup coconut, saving the other 3/4 cup for later use.
Combine flour, pecans, and baking soda in small bowl. Mix into coconut mixture.
Once well mixed, sprinkle remaining 3/4 cup coconut on work surface.
Divide dough into 3 parts and form into rolls, about 1 1/2 inches in diameter.
Roll dough in coconut until coated.
Wrap in plastic wrap and chill until firm, at least 1 hour. (dough can be frozen up to 6 weeks).
Cut rolls into 1/4 inch thick slices and place on ungreased cookie sheet.
Bake at 350 degrees for 13-15 minutes. My oven takes 15.
Cool and enjoy!