Want more from Genius Kitchen?
Watch on your Apple TV, Roku, or Fire TV and your iOS, Fire, or Android device.
Learn More
"I have had several people ask me for an authentic chicken gumbo recipe. This is my attempt at a recipe. I didn't realize it until I sat down the try to type this, I don't know HOW I make gumbo!Gumbo isn't about recipes. I never saw my Maw Maw's recipe because she didn't have one. Gumbo is cooked with instinct and heart. Gumbo is a dish you are taught not something you can make by reading a recipe. My gumbo won't taste like yours and yours won't taste like mine, altough mine tastes pretty similar to Maw Maw's but that is probably because she taught me how to make it when I was about 8. If you have the ability to cook with pinches, dabs and shakes, if you can season, then taste, then season a little more until it tastes right to you, then you can make gumbo using this "recipe". If you can't, you might want to find someone to show you how."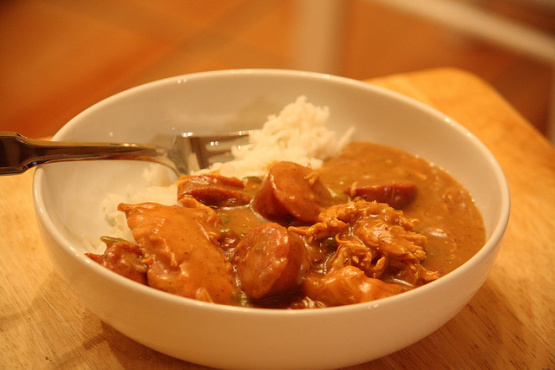 Louisiana Chicken and Sausage Gumbo(The Real Stuff)
8 recipe photos
1

whole chicken, cut up (Save the gizzards and stuff for your dirty rice)
sausage, as much as you feel like cutting up
water or chicken broth, how much depends on how big your chicken is and how much gumbo you want

1

large onion, diced

1

large green pepper, diced

1

head garlic, diced (as many cloves as you'd like)

2

stalks celery, cut up

cajun seasoning (I use Tony Chachere's, it is available on the internet) or creole seasoning (I use Tony Chachere's, it is available on the internet)
Directions
Melt some butter in your heavy bottomed pot.
Sprinkle your chicken with a lil bit of flour.
Brown in the butter (about 5 minutes?) Remove.
In the same pot, using equal parts butter and flour, make your roux.
(see my recipe list, if you don't know how to do this, it is posted under gumbo base, aka roux) Once the roux has reached the dark chocolate stage, add the onion, bell pepper and celery.
In Louisiana, this is known as the Holy Trinity, almost every cajun/creole dish begins with this.
Add some salt, some pepper and a lot of garlic and saute all the veggies for a little while.
It doesn't matter how long of a little while as long as you don't let it burn.
Add chicken back into the pot.
Start adding your water or broth slowly, stirring the whole time.
You will know when you have enough by how thick or thin your gravy is.
If you want thinner gravy, more stock, if you want thicker gravy, less stock.
Season with more salt, more pepper and the cajun seasoning blend.
Bring just to a boil and lower heat to a simmer.
Add sausage.
Allow to cook long enough for the chicken to began to fall of off the bones or until people are hovering over you trying to snitch spoonfuls of it behind your back.
(about an hour and a half?) Serve over rice.
get the genius kitchen app.
Watch on your iPhone, iPad, Apple TV, Android, Roku, or Fire TV.
Learn More