"After reading about the many benefits of xylitol, I went looking for a recipe that would tell me how to add it to unsweetened chocolate and make my own sugar-free chocolate. I couldn't find one quickly and was feeling impatient, so I made this up and it turned out quite well! Note: My sweetener of choice is Sugar Twin (sodium cyclamate) ordered from Canada, which I believe tastes best and is safest. Combining two sweeteners gives a better flavor. When I made this with xylitol only, it had a "too sweet" taste. Also, I used crunchy peanut butter (which is why you see bits of peanuts in the photo), but of course you could use smooth."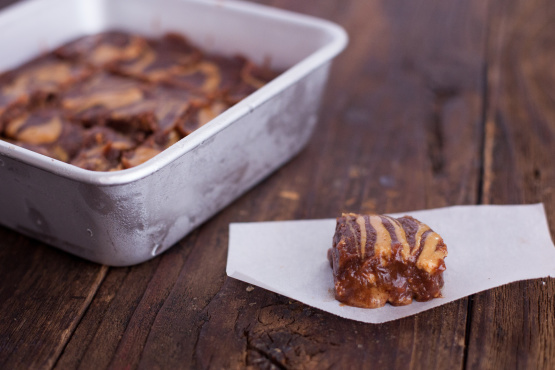 Low-Carb Chocolate Peanut Butter Fudge (Xylitol)
4 recipe photos
Directions
Melt the baking chocolate in a double boiler over medium heat.
Add xylitol and half & half, and stir to blend well.
Heat the mixture, stirring occasionally, until dissolved, smooth, and very hot (no need to boil).
Remove from heat and stir in peanut butter and vanilla.
Press mixture into a flat container that gives the desired height for your fudge. I use a fairly small container so that when I slice the fudge, pieces will be square.
Chill until firm, then cut into 16 pieces. Store in refrigerator.