"Easy and low fat! Very tasty. Freezes well, cheaper and better for you than those store bought ones!"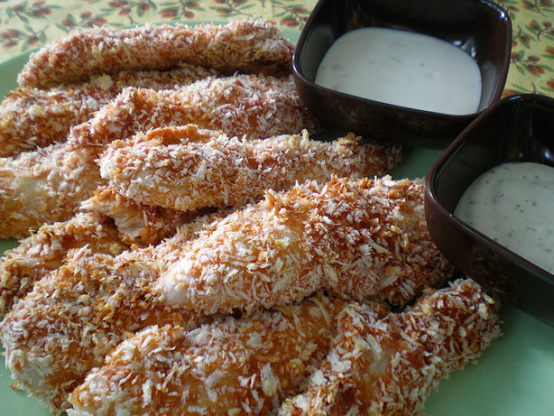 Low-Fat Buffalo Chicken Strips
3 recipe photos
Directions
Preheat oven to 400.
Rinse chicken strips, lay on paper towels to dry.
Dredge each strip in flour, then RedHot sauce, then Panko bread crumbs.
Lay on sprayed baking sheet (or parchment covered baking sheet).
Bake for 17 minutes at 400 degrees.
You can use regular bread crumbs. The critical thing is not to overcook these. They should be soft and moist. If you cut breasts into strips, you should adjust the cooking time (less time if you slice them thinner than tenders, more if you slice them thicker). We like to serve them with extra Frank's RedHot Sauce. My package of tenders yeilded 9 tenders, I'm calling 3 tenders a serving.