"Strawberries were on sale so I bought a bunch and have been trying lots of different ways to make them. The kids weren't sure what to make of these but in the end they enjoyed them. I actually couldn't get a picture of them because my 4 year old took the container out of the fridge (and knocked them about!) before I got a photo."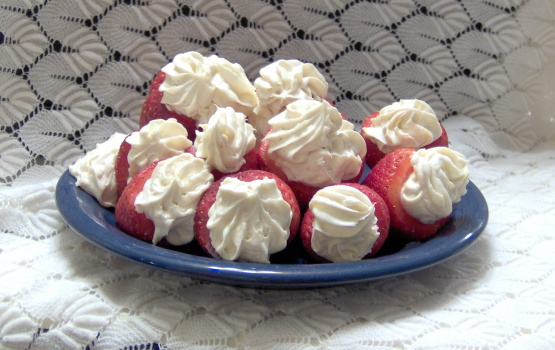 Low Fat Stuffed Strawberries
6 recipe photos
Directions
Clean the strawberries and cut the tops off so that they are flat. Place them on a plate.
Using a small knife, make a hole in the bottom of the strawberries.
With a mixer, blend the cream cheese with the vanilla and splenda.
Using a small spoon, put little dollops of the cream cheese in the holes in the strawberries.
Chill until ready to serve.