"My friend Lois brought this mac salad to a barbeque we were having many years ago. I absolutely loved it...and so did everyone else. I simply had to have the recipe. It's high in fat, but that's what makes it taste so good! You could use the 'light' versions of the mayo and sour cream to help cut down on the fat a bit. I use elbow pasta but you could probably use any other small shaped pasta of your choosing. I hope it becomes one of your favorites. Not really sure of how much this makes, so the serving size is a guess. For those of you in the UK, single cream can be used for the light cream."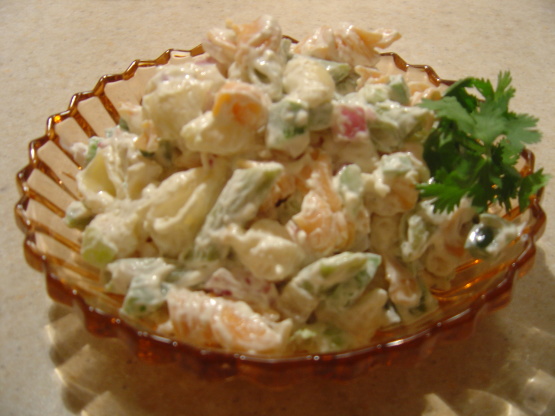 Macaroni Salad a La Lois
1 recipe photo
Directions
Cook the pasta according to package directions and drain. Leave to sit in cooking pot.
Meanwhile, in large serving bowl, combine mayonnaise, sour cream and light cream, mixing until smooth. Add salt and pepper, mix and adjust seasonings to taste.
Stir in cooked pasta. Add celery, peppers and onion and mix thoroughly.
Refrigerate about 3 hours or until cooled completely.
Enjoy!