"One of my favorite places to visit every summer is Mackinac Island. Two of my favorite things to do while on the island is ride my bike around the perimeter of the island and then walk through town going in and out of all of the fudge shops looking for free samples. I'm so happy I found this recipe so I can make my own fudge between visits up north. I bought this recipe booklet called Mackinac Fudge Recipes for my cookbook swap partner. I hope she doesn't mind me posting a few of the recipes here on Zaar."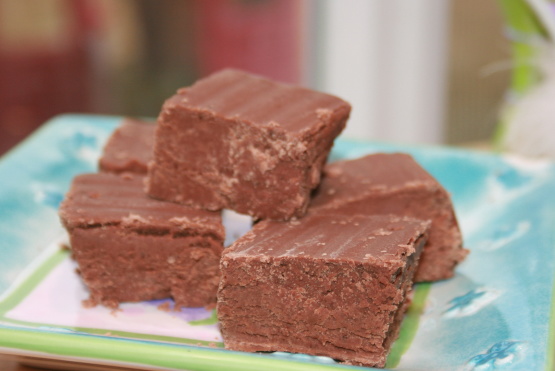 Mackinac Island Old-Fashioned Chocolate Fudge
2 recipe photos
Directions
Combine milk and chocolate in a medium size heavy saucepan;.
cook over low heat until chocolate is melted.
Add sugar, corn syrup and salt,.
cook, stirring constantly, to boiling.
Cook, without stirring to 234 degrees F. on a candy thermometer. (A teaspoon of syrup will form a soft ball when dropped into cold water).
Remove from heat at once.
Add vanilla and butter but do NOT stir in .
Cool mixture in pan to 110 degrees F., or until lukewarm.
Beat with wooden spoon until mixture thickens and begins to lose its gloss. (This will take about 15 minutes.).
Spread in a buttered 8-inch x 8 inch x 2 inch pan.
Let stand until set and cool.
Cut into squares.