Want more from Genius Kitchen?
Watch on your Apple TV, Roku, or Fire TV and your iOS, Fire, or Android device.
Learn More
"Spend 5-10 minutes mixing water, flour, yeast & salt in a big plastic container on the weekend, and then shape & bake small loaves each morning for the rest of the week good for 2 sandwiches each. No kneading. You need a digital scale to make measuring ingredients super easy and a 6qt (shoe-box sized) container to hold the dough in the fridge. This is essentially the basic recipe from "Artisan Bread in 5 minutes a day" with a few modifications based on experimentation, ideas from other cook books and measurement converted to weight. I've made it even less work and a little cheaper, but definitely check out the book for more variations and ideas!"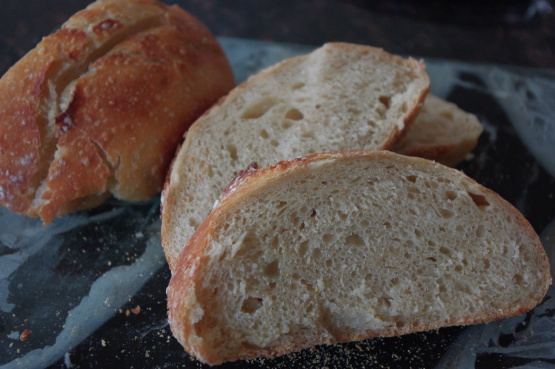 Magic Bread Box (Yeast Bread All Week With Barely Any Work)
6 recipe photos
Directions
Start by putting 700g water (about 3 cups + 1 tablespoon) in a 6qt container with a lid. Just make sure it's not a screw-top container, because you want it to be able to pop off if the dough really expands or gases build up inside. But you don't want the dough to dry out during the long rise time, so you want something with a decent seal to keep in the moisture.
Sprinkle a tablespoon of salt and 4-8 g (1-2 teaspoons) of yeast on top. The warmer it is inside where you are going to set the dough to rise, the less yeast you need. In the summer I use 4g, and the winter 8g. Great for stretching that pricey jar of yeast as far as it will go!
Dump 1000g of unbleached all-purpose flour on top of that (approx 7-7.5 cups) and mix it up with a big spoon just until all the flour is damp. Don't knead! It's very sticky at this point, but still, more of a lump than a batter.
Cover and let it sit out on the counter (out of the sun) all day or all night, until you can see big bubbles in the dough through the clear sides of the container and the container is almost full. For me this usually takes 6-12 hours. Recently I've found I can let it sit out just a short amount of time and then just chuck it in the fridge overnight with the same results.
Technically it's ready to bake at that point, but I find it's very difficult to handle until it sits in the fridge for a good chunk of time first. The coolness makes it a little stiffer. So once it's risen, chuck it in the fridge for another half a day.
When you're ready, sprinkle the top of the dough with a few tablespoons of flour, just to make the part where you're going to stick your fingers less sticky, but don't work it in at all. Grab the dough by the floury part, lift it partially out and cut off a piece with a bread knife. Tuck the edges underneath to form a ball (you may need to go around the edges several times) and put it on a pan sprayed with oil and dusted with cornmeal. You want to use a pan deeper than the bread is tall. A dutch oven is ideal, but I use a large loaf pan. I make about 1/5 of the dough at a time, which is about the size of an orange, but you can use less or more if you adjust baking times.
Put the remaining dough back in the fridge, and use it all up in a 10-14 days. When you make the next batch, you can even skip cleaning the container out if you want. The little smudges of leftover flour and dough should incorporate into the new batch with no ill effects.
Recently I've discovered that if you take an extra minute to shape the remaining dough into a ball before putting it back in the fridge, it pays huge dividends. Just pick up the whole thing and spend a minute tucking the edges under, going around and around, and then plop it back in the container. Next time you go to cut a hunk of dough off, you'll find the dough is extra bubbly, and it bakes up extra fluffy with nice big air-pocket holes in it.
Let the newly shaped loaf sit for 30-60 minutes, then cover tightly (either with foil, or if your pan is a dutch oven with the lid) to keep in the moisture as the bread bakes. This eliminates the need for a pan of water in the bottom of the oven.
I used to preheat, but recently I've been putting it in a cold oven with good results. The large toaster oven I use heats up pretty fast, so that may be why it works so well for me. At any rate, you want to bake at 450 for a good long time, then take the lid/foil off to brown for a little more. In my oven, for the size I make (about 1/5 of the dough at a time) that takes about 30-35 minutes, plus 5-10 for the browning. You will have to experiment with your own equipment.
Let it sit until it cools, then slice and enjoy! Once it's cut, it goes stale pretty quickly, so don't resist that good bread smell too long -- .
NOTE: You can tinker with the flour any way you want. Whole wheat, rye, oatmeal, flax, wheat bran, cinnamon, etc. If you don't want to improvise, just find another recipe you like and use that with this method. See the book "Artisan Bread in 5 minutes a day" for other variations and options like pizza, bagels, pretzles, etc.
NOTE2: If you want to bake all the dough at once, I recommend starting at least 24 hours in advance. Mix the dough, refrigerate for half a day, take the dough and spend a minute shaping into a ball, then put it back in the fridge for another half a day before taking it out and putting it in its final shape.
get the genius kitchen app.
Watch on your iPhone, iPad, Apple TV, Android, Roku, or Fire TV.
Learn More