Want more from Genius Kitchen?
Watch on your Apple TV, Roku, or Fire TV and your iOS, Fire, or Android device.
Learn More
"These really are like magic in that they actually rise up and bake like regular muffins, but only take 3-4 minutes in the microwave. Using cocoa powder, flax meal, rolled oats and sweetened only with banana, these are a very nutritious breakfast with a good source of heart healthy omega 3s, over 5 grams of fiber and almost 9 grams of protein. Feel free to add a sweetener of choice if you prefer things sweet. Also try the suggested toppings or mix-ins (my favorite is the Chocolate Whey Coconut) or experiment with your own! I love that they don't need xanthan gum and they're a great way to make use of that single overripe banana that isn't enough for banana bread. Bonus: Studies have also shown that in addition to being a great source of antioxidants, cocoa also has the ability to make us feel more full while also having a mood elevating effect. TIP: Mix up the dry ingredients ahead of time and store in the fridge in individual baggies so you only have to mix them into the soaked oats, banana, and eggs in the morning."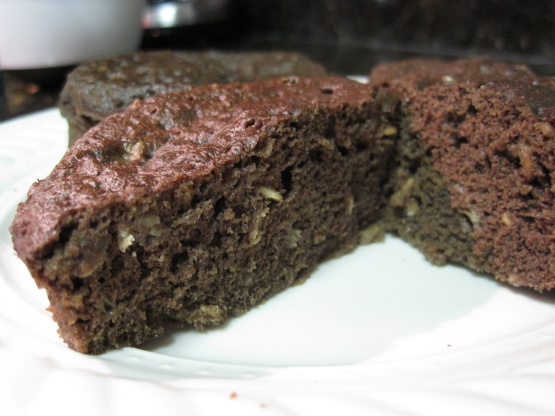 Magic Microwave Muffin - Sinless Chocolate Banana (Gluten Free)
10 recipe photos
Soften the oats (soak overnight or microwave)

59.14

ml oats (gluten free)

118.29

ml skim milk

4.92

ml vanilla extract

Dry Mix (make ahead if desired)

44.37

ml brown rice flour

29.58

ml garbanzo bean flour (with fava if available)

29.58

ml cocoa powder (Hershey's Special Dark is good if available)

29.58

ml flax seed meal

14.79

ml sweet white sorghum flour

7.39

ml tapioca flour (tapioca starch is the same thing)

7.39

ml cornstarch

2.46

ml baking powder

1.23

ml baking soda

1.23

ml salt, scant

Wet ingredients

118.29

ml mashed overripe banana (1 large overripe banana)

2

egg whites (or 1 egg)

Optional Mix-Ins or Topping Ideas (directions given below)

uncooked rolled oats (optional) or shredded coconut (optional) or chocolate chips (optional) or sliced almonds or other chopped nuts (optional)
Directions
Choose one of the following options to soften the oats. OVERNIGHT OPTION: In a small container, combine the oats, milk and vanilla. Cover and let soak overnight in the refrigerator. QUICK OPTION: In a 1.5 cup or larger microwave safe container, combine oats, milk and vanilla and microwave on high for 1 minute to soften the oats.
Combine dry ingredients in a small bowl and blend together with a wire whisk.
Mash the overripe banana (more brown than yellow) in a medium bowl with a fork until it is almost like a liquid with very few small clumps and make sure it measures at least a 1/2 cup (a little more is okay). Add 2 egg whites (or 1 egg) and the softened oats mixture and whisk with the fork until well blended. (If the oats are hot from the microwave, stir quickly so they don't cook the eggs).
Pour the dry mix on top of the banana mixture and stir with a fork until powder is mixed in completely.
Divide the batter evenly into three 8 oz ramekins or large coffee mugs so each has about a 1/2 cup of batter. (Batter should never fill its container more than half full or it will bubble over while cooking). Check below for optional toppings and mix-ins you can add here.
Put all 3 containers in the microwave together with at 1-2" space in between them and microwave on high for 3 to 4 minutes or just until center is dry to the touch (see microwave tips below to determine cook time).
Carefully remove containers from microwave using oven mitts. Flip over with the serving plate or your hand underneath (ready to catch) and shake muffins lightly side to side and up and down and the muffin should drop right out! Flip so it is right side up and let cool on a paper towel on top of a cooling rack (to prevent soggy bottoms).
Serve warm, or store in covered containers in the fridge for up to a week (cool muffin completely before storing to prevent soggy bottoms).
OPTIONAL TOPPINGS: Sprinkle uncooked muffin top with dry rolled oats, flaked coconut, sliced almonds or your favorite chopped nuts. (Since the batter has already been separated you can experiment with a different mix-in or topping for each one!).
OPTIONAL MIX-INS (add a little sin back in!): Chocolate Whey Coconut - stir in 1 tsp vanilla whey protein powder and 1 tbsp of coconut per muffin and then sprinkle a little more coconut on top. Chocolate Chocolate Chip: Stir in an additional tsp of cocoa powder and 1 packet truvia (omit truvia if you already added sweetener to the main mix) and then sprinkle a rounded tsp of chocolate chips on top of the batter of each muffin (do not stir in chips, they will sink into the muffin while it bakes).
ALSO TRY: A great treat is to pour about a 1/4 cup (or more) of milk over a leftover muffin from the fridge, heat in the microwave for 45 seconds and eat it with a fork like a bread pudding.
MICROWAVING TIPS: After 3 minutes of baking in the microwave, the muffins should have doubled in height and should be bubbling at the center and possibly the edges. When bubbling stops and centers look dry, stop the microwave and quickly tap the center with your finger. If the batter sticks to your finger, put them back in microwave for another 15-30 seconds and then check again. Repeat until the batter is dry and doesn't stick. NOTE: Cook time will be reduced if the oats and milk were already hot from the microwave when you mixed the batter.
OTHER COOKING OPTIONS: ONE AT A TIME - If you prefer to cook them 1 at a time, try 2 minutes in the microwave watching after 1.5 minutes and checking for a dry center like recommended above. BAKING IN THE OVEN - If you prefer to bake in the oven, pour batter into greased muffin pan (they will stick to paper cups) so each muffin only fills the pan 1/2-2/3 of the way so it has room to rise up while baking. Bake in a preheated oven at 350 degrees for 25-35 minutes until the center is dry to the touch.
get the genius kitchen app.
Watch on your iPhone, iPad, Apple TV, Android, Roku, or Fire TV.
Learn More