"These are the forerunner of modern baked cheesecakes, and this recipe originates from one of the first documented versions of this recipe. Curd cheese was very popular as an ingredient for desserts many hundreds of years ago, and these delightful little tarts have a Royal lineage; the story is that whilst Henry VIII was strolling in the gardens of Hampton Court Palace, he came across a group of ladies in waiting (to his queen, Catherine of Aragon), one of whom was Anne Boleyn - whom subsequently became his second wife; they offered him some of these tarts and he enjoyed them so much, that he named them after the Maids of Honour. I always make these for afternoon tea - they are delightfully light and fragranced with delicate orange flower water or rose water. Use any dried fruits that you have available - I find a mixture of seedless raisins and chopped candied peel works very well."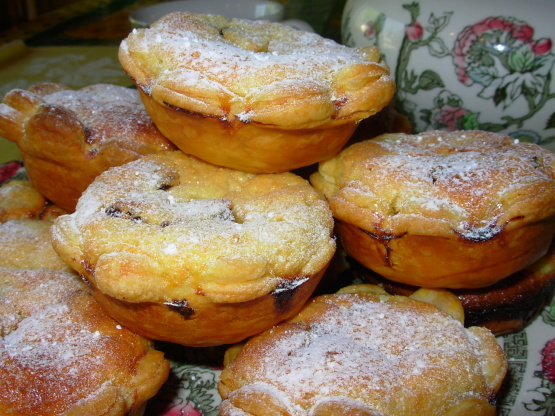 Maids of Honour - Old English Tudor Cheesecakes
5 recipe photos
Directions
Pre-heat oven to 220C/450F/gas7 and lightly grease a 12 hole bun or muffin tin.
Roll out the pastry and stamp out 12 fluted rounds - try to make sure that they are at least 1/4" bigger than needed, as the puff pastry shrinks during baking.
Line the bun tray with the pastry rounds and chill them whilst making the filling.
Place the curd cheese or cottage cheese into a large mixing bowl and add the beaten eggs, cream, sugar, orange flower water or rose water and almonds.
Mix well and then add the mixed dried fruit, mixing again well.
Spoon the filling into the pastry cases and bake the tarts for 15-20 minutes or until well-risen, golden brown & firm to the touch.
Allow them to cool a little and then carefully remove them and place them on a wire rack to cool completely.
Arrange them on an attractive cake platter and sprinkle with icing sugar to serve.