Want more from Genius Kitchen?
Watch on your Apple TV, Roku, or Fire TV and your iOS, Fire, or Android device.
Learn More
"Yes, you read that right! As promised in our blog post from last week, The Story Behind the BO-beau Brussels Sprouts, I will give you the best rendition of the BO-beau brussels sprouts recipe to make in your own home! The good news is – you don't need a deep fryer like we used at the restaurant! Further more, you don't need to fry them AT ALL! This recipe is made with easily accessible ingredients that you can find at your local grocery store. We used pancetta at the restaurant but this recipe simply calls for thick cut bacon for your convenience. Pancetta is pork belly, that has been cured for a length of time, and is usually cured with black pepper and other aromatic spices. Conversely, bacon is also pork belly that has been cured for a length of time, with black pepper and other aromatics. The main difference is that bacon is smoked after the curing process. You can use these two interchangeably, without adjusting the quantity needed."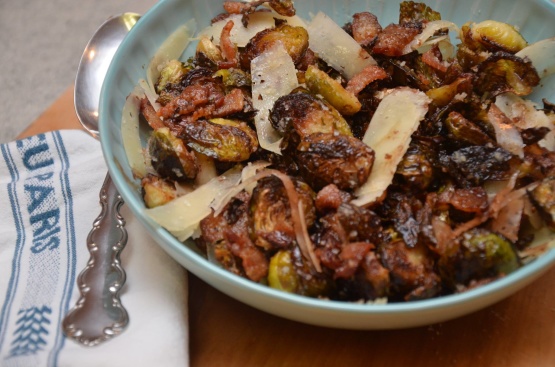 Make the BO-Beau Brussels Sprouts Home Edition!
2 recipe photos
READY IN:

1hr 20mins

SERVES:

4

YIELD:

4

cups

UNITS:

US
Directions
Begin by setting your oven to 400 degrees to preheat.
We are going to start by making the balsamic port reduction. It takes about 40 minutes to reduce properly, so the faster we get this on the stove the better. This will give the reduction time to thicken and cool (nothing like burning your mouth on piping hot-molten reduction!) prior to dressing the brussels sprouts. Start by measuring 1 cup of each apple juice, port wine, and balsamic vinegar. Place all into a medium size saucepan, on medium-high heat. After about 10 minutes, you should start to see the liquid simmering. Keep this liquid right below a boil, but consistently simmering. PRO TIP: the larger the pan you use, the quicker your reduction will go. In a 4 qt saucepan, it took our reduction about 40 minutes to reach the desired consistency. If you use a larger pan, it could go much quicker. On the contrary, if you use a smaller saucepan, it will take longer. Less surface area for the saucepan = slower evaporation = slower reduction!
While your reduction is…well…reducing, begin cleaning and trimming your brussels sprouts. Wash them under cold water (as you should do with all vegetables), and then begin by trimming off the cut edge. After we trim the end off, we cut the brussels sprout directly in half (cutting along the length of it, vertically) and place the halved brussels in an empty mixing bowl for later use.
Once all of the brussels sprouts are trimmed, toss them with 2 tbsp of olive oil. We used extra virgin, but if you have regular olive oil laying around, feel free to use that as well. Season with a pinch of salt and a pinch of pepper and mix together with a large spoon.
Check on the reduction. It should have reduced at least by 1/3. When we reduced ours for 40 minutes, we went from 3 cups of liquid to 3/4 cup of reduction. It was perfect!
Now, get the bacon ready. Dice it up (cut it into squares) into pieces approximately the same size. You'll want to get a full cup (or more or less depending on your love affair with bacon!) of diced, raw bacon.
Toss the raw bacon into the halved and oiled brussels sprouts. Line a baking sheet with parchment paper (or foil), and lay out the brussels sprouts and bacon, maximizing the entire baking sheet. PRO TIP: You'll want to use a big enough baking sheet so that there is plenty of space for the brussels and bacon to spread out. If everything is piled on top of each other, the brussels sprouts (and bacon for that matter) will actually steam instead of roast, and you won't get the results you are looking for.
Place your baking sheet in the oven and bake at 400 for 20 minutes. After 20 minutes is up, stir the brussels and bacon around. They should have JUST started to brown, but they aren't done. We want that nice, crispy, crunch, charred brown. Trust me – they aren't ready yet.
After you stir them up, spread them out again so they have room to breath, close the door, and set the timer for 10 more minutes.
I know! They are browning! They should keep browning! After your additional 10 minutes is up, stir them one more time. They are so close!
Bump up the temperature to 450 (we like cooking on high heat, remember?) and set the timer for another 5 minutes.
YAY! They are finished cooking! Woohoo!
Toss them with 1/4 cup of parmesan cheese. Taste for seasoning. Add the salt and pepper. Do you need more salt? Do you need a little pepper? Adjust it according to your liking.
When you are ready to serve your brussels sprouts, transfer them into a serving bowl. Garnish them with shaved parmesan and drizzle the balsamic port reduction on top.
get the genius kitchen app.
Watch on your iPhone, iPad, Apple TV, Android, Roku, or Fire TV.
Learn More