"I do encourage you to make your own - the fresh, aromatic flavour can't be beat, and it's very inexpensive to make."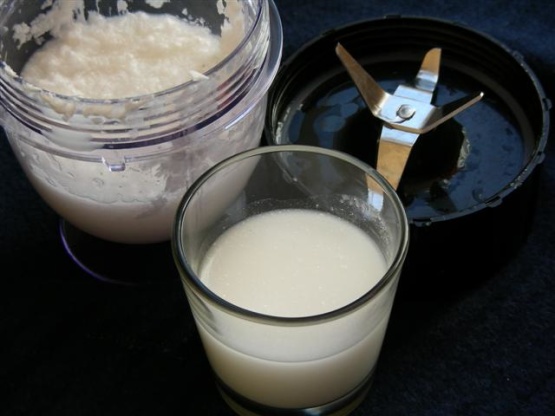 Make Your Own Coconut Milk
1 recipe photo
226.79

g desiccated coconut (dry)

828.06

ml water
Directions
In a medium-sized pot, place dessicated coconut and water.
Mix and allow to soak for ½ an hour.
After ½ an hour, turn heat onto low and bring to a gentle simmer.
Simmer, covered, for 10 minutes.
Turn off heat and leave pot on element for ½ an hour.
After ½ an hour, transfer coconut mixture to blender or processor and process for 45 seconds.
Put a large sieve over a bowl and empty coconut mixture into it.
Press down hard on coconut solids with the back of a spoon to remove as much coconut milk as possible.
This method produces approximately 2 cups of coconut milk.
Can be made up to 2 days before use in a recipe and refrigerated, covered. The milk will separate in the fridge, forming a creamy 'fat' layer on top, and a thinner 'liquid' layer underneath. Not to worry, the fat layer will melt into the liquid when heated and form a lovely milk.