Want more from Genius Kitchen?
Watch on your Apple TV, Roku, or Fire TV and your iOS, Fire, or Android device.
Learn More
"Just what it says. Check with your vet first. I have had many Chihuahuas over the last 10 years (I'm involved with rescue) who have tended toward obesity, and this diet has helped them get fit and trim. As long as they still have healthy teeth you should still feed them a good quality "lite" kibble and this is as a supplement. It is not quite as dense as commercial food. My dogs are quite small, and normally eat 1/4 cup kibble twice a day. When they are on this diet, I feed them 1/4 cup of this along with about 1/2 the kibble they usually eat (approximately 2 tablespoons). Please note, certain foods are toxic to dogs; NEVER add onions or garlic to this recipe. Garlic is less dangerous than onions and some people will tell you that it's actually beneficial for your pets' health. I prefer to err on the side of safety for their sake so I say please do not add it to their food. As for the vegetables, my babies love green beans, beets, carrots, peas, spinach, mixed vegetables and lima beans, among others. The important thing is to use a variety and if using canned, they must be the kind that have NO SALT ADDED."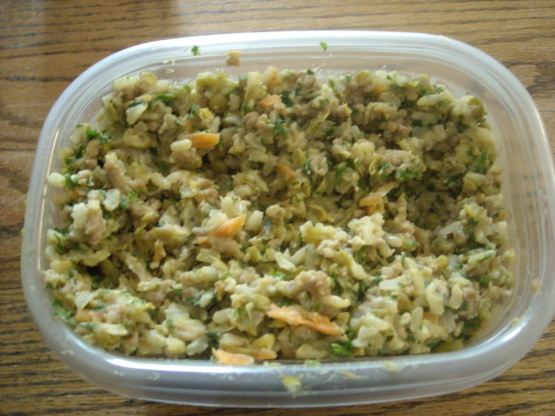 Mama Porkpie's Dog Food for Little Fatties
1 recipe photo
Directions
This recipe, as is, yields approximately 4-5 quarts, which is more than a small or medium-sized dog can consume while it remains good in the refrigerator. Therefore, the first step is to go to the dollar store and buy 8-10 pint-sized freezer containers. Heck, spend a lot more money and buy Tupperware if you want. Or if you are particularly ambitious, pack the finished product into canning jars and seal them. I prefer to just freeze it in pint containers until ready for use.
Open the cans of veggies and drain the liquid into the largest measuring cup you have, as much as possible. You should get about 3 cups of liquid but if not, add water to make exactly 3 cups.
Put the liquid into a 5-quart dutch oven on the the stove and bring to a boil.
Add the brown rice, stir, cover, and turn to low heat. Set the timer for 45 minutes. If it gets done before you are done with the next 2 steps, just move it aside somewhere off the heat without removing the lid or disturbing it in any way.
While you are waiting on the rice, cook the chicken or turkey meat in a frying pan until completely done. Transfer it into a fine-mesh colander and place in the sink to let the liquid drain out while the rice is cooking.
If you are using vegetables that have pieces larger than 1/2" then you need to use this time to cut them down further. For example, my dogs love beets but the only salt-free variety I can find are sliced beets. I chop the slices into small dice, and I do the same with the green beans.
Also use this time to prepare the parsley. This part is important. First clean it as you normally would, then remove all the large stems so that what you have left are just the tiny sprigs. Then transfer the sprigs to your food processor. If you don't have one, get out your biggest, sharpest knife and start chopping. The parsley needs to be VERY finely chopped. If not, you will find it all over the floor after Fido's feeding time. Babies don't like the texture of whole parsley and will spit it out. It is, however, good for their breath and digestion and it's very low-cal.
When the rice is done and has been taken off the heat, open the lid and add the meat, stir well.
Add all the vegetables, stir well.
Add the parsley. Mix thoroughly.
Pack the mixture into pint-sized containers and store properly, keeping one out for immediate use.
get the genius kitchen app.
Watch on your iPhone, iPad, Apple TV, Android, Roku, or Fire TV.
Learn More