"My grandmother Lucille (we all called her Mammaw) used to make this wonderful zucchini bread when I was growing up. I ate this every time she fixed it, thinking it was banana bread. When I was a teenager and became interested in cooking, I asked her for the recipe and could not believe that this was made with zucchini! If they would have told me that as a child, I probably never would have even tried it. It is one of my favorite desserts to make, it is simple, and it gets rave reviews every time."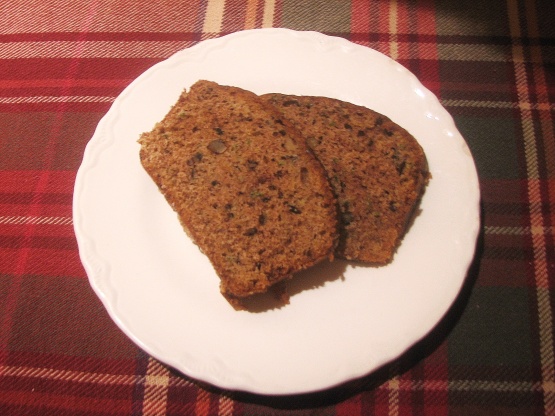 Mammaw's Zucchini Bread (Can Also Be Modified to Gluten Free)
1 recipe photo
Directions
In a large bowl beat eggs, sugar, zucchini, oil, and vanilla extract. Gradually add in all remaining dry ingredients, spices, nuts, and raisins if desired.
Optional: I do not add raisins to my zucchini bread, however, you can add 1/2 cup of raisins if you prefer.
Grease 2 loaf pans only on the bottoms. Pour batter into loaf pans, fill pans half full leaving enough room for the bread to rise.
Bake at 325 degrees for 60-80 minutes depending on your oven.
After baking, cool for approximately 10 minutes, then remove from pans.
I serve this as bread with butter, but you can also frost as cake for a sweeter taste.
*IF YOU CHOOSE TO MAKE THIS A GLUTEN FREE RECIPE* My two favorite gluten-free flour mixtures are King Arthur's Multi-Purpose Gluten Free Flour, and also Andrea's Gluten Free Flour Blend from Andrea's Gluten Free Bakery. They can both be purchased online if you do not have access to a store that sells either brand. King Arthur's can be purchased at kingarthurflour.com and Andrea's mixture can be purchased at andreasglutenfree.com. The gluten free flour mixtures that are out there now are great! They take all of the guesswork out of having to add the gluten free starches and gums together to get the right consistancy and flavor that all purpose flour has.