"Oh, Baby, this is goood! Made with Maple syrup instead of sugar, and a hint of cinnamon. A lovely twist on an old favorite."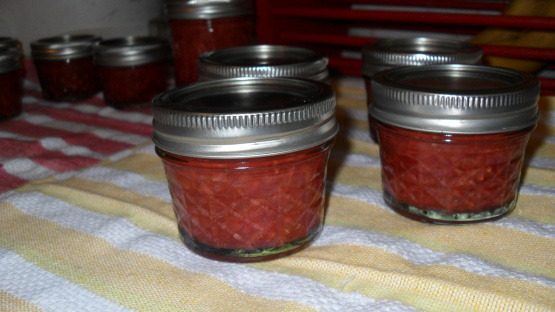 Maple Cinnamon Strawberry Jam
1 recipe photo
Directions
Crush the quartered strawberries in a large bowl. You should get 4 cups of crushed berries.
In a non-reactive pot, mix the crushed strawberries, lemon juice, cinnamon, butter, and pectin. Stir well to combine.
Stir constantly over high heat.
Bring mixture to a full, rolling boil that cannot be stirred down.
Add Maple Syrup, stirring constantly.
Bring back to a rolling boil. Boil hard 2 minutes, stirring constantly.
Remove from heat, skim and discard the foam.
Ladle hot jam into hot, sterilized jars, leaving 1/4 inch headspace.
wipe rims, place lids on jars and screw on the bands finger tight.
Process sealed jars in boiling hot water bath canner for 10 minutes.
Turn off heat and let jars sit for 5 minutes before removing from canner.
Place on cloth-covered surface to cool.
It is best not to move the jars for 24 hours.
Remember to label the jars and write the date on the label.