"This is a redo of a savory recipe I've made from I'm Pat, for a Gluten Free Kumara Damper, which inspired me to modify this recipe into a sweet(ish) scone, made with cinnamon, pecans, a bit of brown sugar and maple syrup, and for those who don't have self-rising flour handy, include the measurements for the baking powder and salt. I've also changed the flour, using part oat flour, and part all purpose or whole wheat, your choice - although use your imagination, or what's on hand. The ones in the photo were made with all-purpose and oat flour. You can make oat flour by whirring some oats in your grinder until they resemble flour. I love oat flour!! These are a real favourite at home! Merlin and Arwen (my parrots), negotiate for as much of the sweet potato as they can - generally the rule is that they can have all but 1/2 cup of it. When the scones come out of the oven is another story!! I hope you like my version of them - feel free to change it up as you'd like to."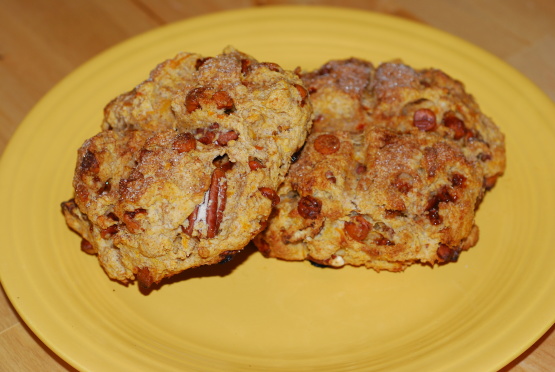 Maple Cinnamon Sweet Potato Scones With Pecans
4 recipe photos
Directions
Preheat oven to 375 F or 200°C Spray/Line a flat baking/cookie tray/sheet.
Mix dry ingredients (up to salt) into a large bowl and rub in the butter till you have a breadcrumb consistency. Add the sweet potato, and cut it in as well; then stir in the cinnamon, pecans, and cinnamon chips. Next, add to the buttermilk, the maple syrup and vanilla, and add this to the dry mixture, and stir well. If necessary, add extra milk, a tablespoon at a time to the mix until a soft dough is reached, and then transfer dough to a floured surface and knead slightly, until smooth.
Divide dough into 4 equal portions, and roll each portion into rounds; place on oiled tray. Cut a cross through the top of the dough about 5mm deep.
Combine sugar and cinnamon together, grind in some nutmeg. Mix.
Brush tops with milk and then dust with cinnamon nutmeg sugar.
Bake scones for 15 to 23 minutes. Baking times vary, so check scones at 15 minutes to gauge doneness.
Enjoy!