"I needed a baking cookbook of some sort for my "dessert of the month" challenge and after careful deliberation, and much drooling, over at least 20 books about baking, each with stunning photographs I settled on William Sonoma's The Baking Book: Essential Recipes for Today's Home Baker. I love this baking cookbook. I've leafed through it a number of times already...just to make sure I didn't miss anything delicious. I'm intrigued by a number of the different baking methods and I know that this cookbook will help me expand my baking knowledge and repertoire!!! Earlier in the week, my quarterly shipment of organic maple syrup arrived from Amazon. I knew right away that this bread would be first on the list to try! While I didn't have any pecans in the pantry, I did have some walnuts leftover from the holidays. They substituted easily into the original recipe, as did the rice milk that I used in place of the buttermilk. I love how this recipe uses the pecans/walnuts. You grind half of them in a food processor with some flour and then mix the "nut flour" into the batter. And then you coarsely chop the other half to fold into the batter after it has been prepared. This created a perfectly nutty flavor with not too much crunch! And all the milk, syrup, eggs and butter gave them a great moist and fluffy texture. A keeper of a recipe, for sure...Nom. Nom."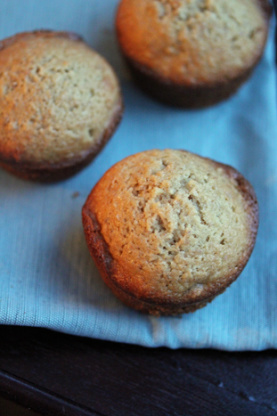 Maple-Walnut Muffins
1 recipe photo
Directions
Preheat the oven to 350°F and grease 24 muffin cups with nonstick cooking spray.
Add 3/4 cups of the walnuts to a food processor or blender with 1/2 cup of the flour. Process until a nut flour forms.
In a bowl, sift together the other 2 cups of flour, the "nut flour", the sugar, baking powder, and salt. Create a little well in the middle and add the beaten eggs, melted butter or margarine, milk and syrup. Stir for about 1 minute, or until smooth-ish but slightly lumpy batter forms.
Coarsely chop the remaining walnuts and gently fold into the batter. Pour the batter into the greased muffin cups.
Bake for 18-22 minutes, or until begin to golden on the edges and center has cooked through. Let cool for about 10 minutes on a wire rack, then remove the muffins from the pan. Serve warm with butter.
This can also be baked in a loaf pan for 50-55 minutes. Let cool completely before slicing.
Enjoy!
get the genius kitchen app.
Watch on your iPhone, iPad, Apple TV, Roku, or Fire TV.
Learn More