"This is from Peter Reinhart's magnificent "The Bread Baker's Apprentice." His description calls for making two 1-pound loaves, either braided or swirled; I got a little goofy and turned it into dinner rolls. (In a household of two people, we need bread that we can successfully freeze!) Mr. Reinhart recommends letting the bread rest for two hours after coming out of the oven so that the flavors will fully develop; we ate 'em about 45 minutes out of the oven, and they were absolutely delicious. (Preparation time does not include rising times.)"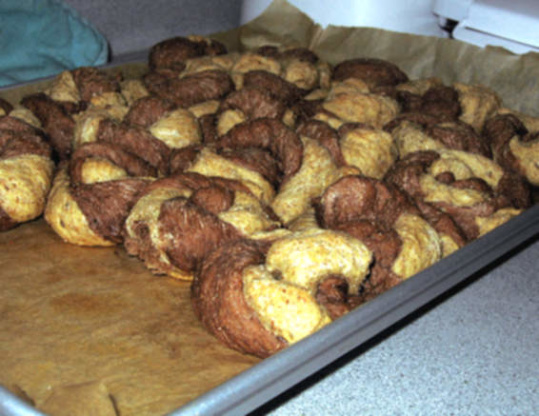 Marbled Rye (Not Abm)
2 recipe photos
READY IN:

1hr 40mins

SERVES:

24

UNITS:

US
Light Rye

13 1⁄2 ounces bread flour (use clear flour if you can get it)

6

ounces rye flour (white, if you've got it, I used regular rye flour and it was fine)

3⁄8 ounce salt (1.5 tsp. of table salt, but a lot more if you're using kosher or sea salt)
1 3⁄4 teaspoons instant yeast

2

teaspoons caraway seeds

1

tablespoon molasses (blackstrap molasses is too strong)

2

tablespoons shortening (I used melted butter)

11

ounces water, at room temperature

Dark Rye

13 1⁄2 ounces bread flour

6

ounces rye flour

3⁄8 ounce salt
1 3⁄4 teaspoons instant yeast

2

teaspoons caraway seeds

1

tablespoon molasses

2

tablespoons shortening (I used melted butter)

11

ounces water, at room temperature

2

tablespoons cocoa powder (unsweetened, or use carob powder or coffee powder)

2

tablespoons water, for dissolving cocoa powder
Directions
MAKE LIGHT RYE: Stir together the flours, salt, yeast, and caraway seeds in the bowl of a stand mixer (or food processor, if you've got at least a 4-quart bowl).
Add molasses, shortening, and 1-1/4 cups water; with paddle attachment of mixer, mix for about one minute at low speed, or until dough gathers up all the loose flour. Add remaining two spoonfuls of water only if needed to form a ball of dough.
Increase speed to level 2 and knead for four minutes -- no more! The rye flour won't like further kneading. (If kneading by hand, knead for about 6 minutes.) Transfer dough to a lightly oiled bowl, turn dough around so that it's coated in oil, and cover bowl with plastic wrap. Set aside to rise.
MAKE DARK RYE: Follow the same procedure to make the dark rye, with the following addition: Blend unsweetened cocoa powder with two tablespoonfuls of water, forming a paste. Add this to the dough when you add the wet ingredients. When finished kneading, add dough to oiled bowl, turn dough over to coat with oil, cover with plastic wrap and set aside to rise.
Allow dough to rise for approximately 90 minutes, or until doubled in size. Note: If you want to make the dough in the morning for that evening's supper, you can pop the bowls into the refrigerator and take them out at the appropriate time to finish rising. It may take a little longer than 90 minutes, but it won't hurt the dough or the finished bread.
Shape the bread: Mr. Reinhart recommends making two loaves, either by braiding or swirling. (See his book for directions.) To make the rolls, cut -- don't rip -- a piece of dough from both the light and dark ryes; pieces should be maybe twice the size of a ping pong or golf ball. Stretch each ball into a rope approximately 8 inches long, then squeeze the ropes together into one rope. Gently twist the rope, then form it into a pinwheel shape, pinching the outside end of the rope into the bottom of the roll.
Place rolls on parchment paper on a large baking sheet or jelly roll pan. Allow rolls to touch each other; they'll easily pull apart later.
Mist the pan of rolls with oil and cover loosely with plastic wrap. Allow to rise for another 90 minutes, or until nearly doubled in size.
Note: Here's another stage where you can delay things, so the rolls will be ready for dinner that night. When the rolls are shaped and in the pan, you can put the pan in the fridge before the dough rises; it can stay there for a day or two, if necessary. Then pull the pan out for the final rise and baking.
Preheat oven to 350.
Bake for 20 minutes, then rotate pan. Bake for approximately another 20 minutes, or until internal temperature of bread reaches 190°F.
When rolls are finished, remove from oven and allow to cool for 1-2 hours before eating. (That's just so the flavor develops; if you can't stand it and need to try one while they're still warm, it won't hurt a thing!).