"A traditional style baguette de Campagne - rustic French bread, which is easy to make and has lots of body - it is NOT like the usual light, supermarket produced baguettes of today. This bread can be started off in a bread machine if you wish. Marianne is the national symbol of France; she personifies Liberty, Reason & the Triumph of the Republic. She appears on stamps, government forms, town halls, law courts and the former French franc coins & banknotes; she even appears on high quality Label Rouge Baguettes and Pain!! Therefore, I have called this homemade French Bread/Baguette recipe after her.....it seems only right and proper!"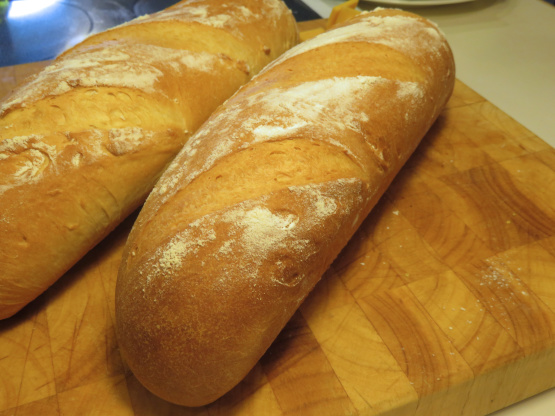 Marianne Baguette - Traditional Rustic French Bread
23 recipe photos
Directions
Put the ingredients into the bread machine. Set to the dough programme and start. Grease a large baking tray & Pre-heat oven to 220C/400°F.
Once the dough is ready, turn it out onto a floured surface and punch it down to deflate it. Shape dough into two long "baguette" shaped loaves and place on the baking sheet. Cover loosely with lightly oiled cling-film and leave to rise for about 30 minutes until doubled in size.
Meanwhile, place an oven proof bowl containing water on the bottom of the oven to heat up. (About 250mls).
Sprinkle top of dough with flour, then using a sharp knife cut 5 diagonal small slits across the tops of the baguettes.
Bake for 15 minutes then reduce temperature to 190C/375F and bake for a further 10 - 15 minutes. (If they start browning too quickly, cover loosely with foil on top.).
Transfer to wire rack to cool.
Eat immediately.