"Brussels sprouts! You either love them, or hate them...I happen to love them and I love them done this way. This is a good cocktail snack or a good addition to a salad buffet. This is a Marian Morash (Victory Garden) recipe. Prep time does not include marinading time."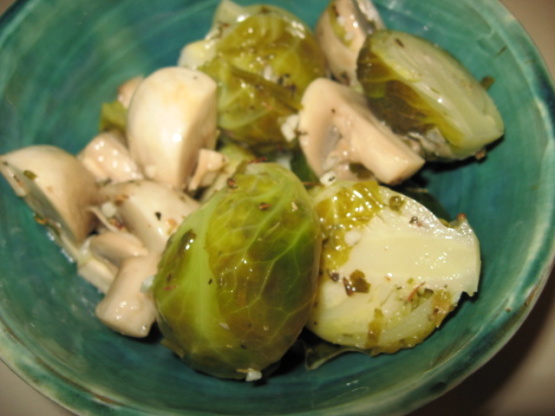 Marinated Brussels Sprouts and Mushrooms
2 recipe photos
Directions
Trim and wash sprouts and then steam or blanch them until just barely tender.
Cool slightly, then cut off the tip of each sprout so that the marinade will penetrate down into the innermost part of the sprouts.
Place them in a bowl.
Wipe mushrooms clean, remove stems and place caps in bowl with the sprouts.
Bring remaining ingredients to a boil in a saucepan*.
Pour over sprouts and mushrooms.
Once the marinade has slightly cooled, refrigerate for at least 2 hours.
Remove from the fridge 30 minutes before serving to take off the chill.
*If you want, tie the herbs and garlic in a bouquet garni and remove when serving.