"This recipe came from a Italian lady, who gave her daughter the directions and ingredients in ITALIAN! The daughter translated it into English. My father and I then worked on coming up with the proper amounts. My father had a wonderful sense of humor and recommended that you should "press the liquid out of the eggplant by running over it in the driveay, with a Lincoln Continental." For those of you that don't have access to a Lincoln Continental, I recommend putting the eggplant in a colander, placing a plate over the top of it and adding heavy weights to press the liquid out!! This is an elegant way to eat eggplant and makes a great appetizer!!"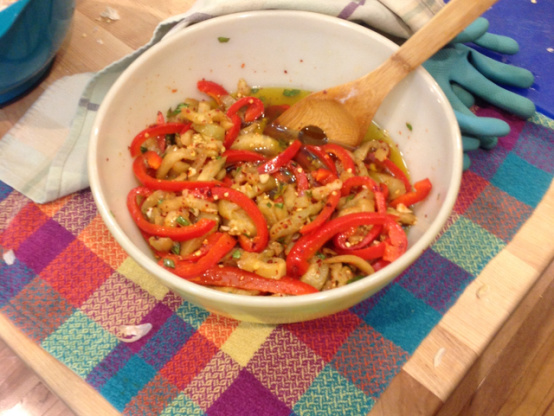 Marinated Eggplant
2 recipe photos
Directions
Wash and pare the eggplant. Slice 1/2" thick, then cut the slices into 1/2" strips. Drop strips into a pan of boiling water. When the water returns to a boil, remove the pan from the heat and let stand for 15 minutes. Drain into a colandar and and place a small plate on top of the eggplant, adding a heavy weight, such as a gallon jug of water. Let it drain for at least an hour.
Put the eggplant in a bowl and add garlic, red pepper, salt, oregano, vinegar and olive oil. Stir gently but, well.
Pack into small Ball canning jars and process in a hot water bath for 5 minutes.