Want more from Genius Kitchen?
Watch on your Apple TV, Roku, or Fire TV and your iOS, Fire, or Android device.
Learn More
"When Martha Stewart first published this recipe in her Martha Stewart Living Magazine in 1995, she had an entire article explaining the "where's/how's/and what not to do's" with regards to lemon curd. I had only ever purchased lemon curd prior to this recipe, and wasn't impressed with it. Too thick, too tart and short shelf life for the very high price. THIS recipe changed my mind: soft, teasingly tart, the ability to make it tarter or softer in flavour all had me saying "THIS IS THE WORLD'S BEST LEMON CURD!!!" I've never tried another recipe since, even Martha's "New & Improved" curd recipes, where she seems to have forgotten what she taught us fans of hers, so many years ago. According to the article, the reasons why THIS curd recipe is so superior is the following:1) Beating the egg yolks until rich yellow and then straining the first time creates a smooth, albumen-free base. 2) Cooking the mixture WITHOUT the zest creates a "softer", less bitter curd. Cooked zest just becomes more bitter, even without the white pith. 3) A second straining removes any possibility of "scrambled eggs" from your curd! 4) Adding the chilled butter, cut into pieces, to the eggs does two things: it rapidly cools down the curd so it doesn't continue to cook and also the buttery flavour is not changed by cooking with the yolks! 5) Adding the zest after the curd is cooled creates a smooth, flavourful but not bitter curd! Are these steps too many for some people? Oh, I'm sure of it, especially the straining steps. And some curd recipes have you dump everything together in the pan so that sure makes it simple. However, after 15 years of making this one curd recipe, I've found the little bit of extra time involved in creating it makes for a superiour end product. NOTE: If you do not want a dense, eggy Lemon Curd, use WHOLE EGGS for the recipe, rather than egg yolks. That would be four whole eggs to the six egg yolks."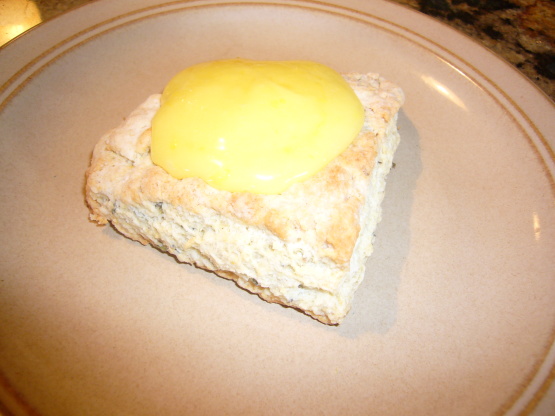 Martha Stewart's Ca. 1995 Best Lemon Curd
2 recipe photos
Directions
Beat the egg yolks until well blended and lemon yellow in colour. Strain the egg yolks through a sieve into a medium-size heavy saucepan. (Sieving removes any shells or albumen; heavy saucpan prevents curdling.).
Add the sugar and lemon juice, stir to combine, and cook over low heat, stirring constantly, for about 10-15 minutes. DO NOT HURRY THE PROCESS OR THE EGGS WILL CURDLE!
Cook until the mixture coats the back of a wooden spoon. Remove from heat and immediately pour through another sieve to catch any "scrambled egg bits". Pour into a heat proof 4 cup measuring cup and stir in the cold butter pieces, which cools down the mixture quickly.
Add the rind, continue stirring until well-blended.
Transfer to whatever storage container you want: either a large one or several samll ones.
Shelf Life: MUST BE REFRIGERATED! Keeps 2 weeks.
Variations:.
Lime Curd: substitute lime juice and increase grated lime peel to 2 tablespoons.
Orange Curd: Use orange juice, decrease sugar to 2/3 cup. 1 tablespoon orange peel.
Grapefruit Curd: Use grapefruit juice, same sugar and zest as lemon curd.
get the genius kitchen app.
Watch on your iPhone, iPad, Apple TV, Android, Roku, or Fire TV.
Learn More