"These cookies are by far "The Best" Sugar Cookies I have ever had, and the amazing flavor is in the secret ingredient :) I guarantee if you do make them, you will never use another recipe. Try them and see for yourself! They are delicious plain or decorated with frosting, or glaze and holiday jimmies or sprinkles or colored sugar granules. You can substitute lemon or lime peel in place of the orange peel if you wish. They are all awesome! You can easily double this recipe to make a larger amount of cookies for the holidays! The amount of cookies really depends on the size of the cutters you use, so it is only a guesstimate. The cooking time is for 2 sheets of cookies."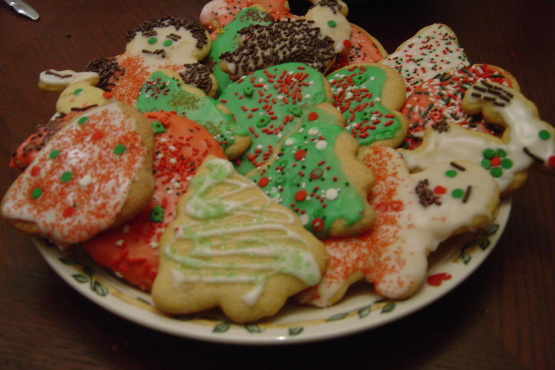 Martha's Blue Ribbon Sugar Cookies - Christmas
4 recipe photos
Directions
In a large mixing bowl, cream butter and sugar until well mixed.
Add 2 eggs to the creamed mixture. Mix well.
In another large bowl, mix sifted flour, baking powder and salt together. Add to creamed butter mixture. Mix well.
Add in grated orange rind, and mix well.
Make into a ball, and chill in bowl covered with saran wrap, for at least 2 hours, or overnight in the refrigerator.
When ready to bake preheat the oven to 350.
With a floured rolling pin, roll out the dough to about 1/4" thick on a very lightly floured surface.
Make into desired shapes using cookie cutters. (I dip my cutters in flour before cutting each cookie, so they don't stick). If you don't have cookie cutters, you can use the bottom of a glass instead. Brush off any excess flour before putting them on the cookie sheet, if there is any.
Place cookies on ungreased cookie sheet about 2" apart. You may use parchment paper if you like.
Bake for 8 minutes (or you may preheat the oven to 300, and bake for 10 minutes).
Let cookies cool on wire racks.
Decorate.
Store in a covered plastic container, or cookie tin.