"Great for halloween, decorating cakes or ghoulish treats. Inspired by Lily Vanilli's Zombie Ate My Cupcake! book, these are our slightly simpler version (if such a thing as making bugs out of marzipan is possible to be simpler)."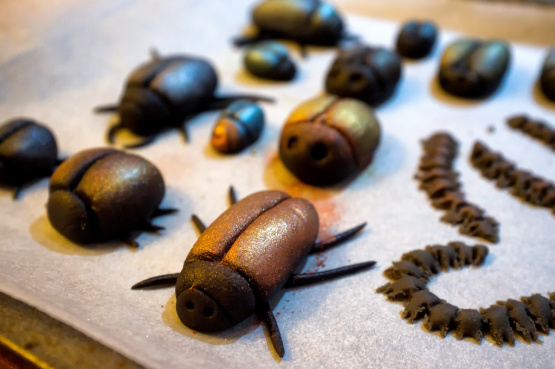 Marzipan Bugs
5 recipe photos
140

g marzipan

black food coloring

edible luster dust, various colours
Directions
Mix black food colouring into the marzipan, this will take some time and turn everything your touch black.
Cut or break marzipan into beetle sized lumps.
Roll each lump into a elongated ball, about an inch long.
Flatten slightly until roughly bug shape.
Make groove in the bug to make it look like an egyptian scarab beetle.
Dab a small brush into the Edible Luster and then wipe most of it off on a kitchen tissue, then brush the wings/shell of the beetle.
Add a second colour if you want a shimmering beetle effect.
Optional; roll some marzipan into tiny sausage, which are going to be the legs.
Cut the tiny sausages into 3 shorter sausages, enough to sit under the beetle and poke out each side.
Layout legs, stick beetle on-top, carefully wait to harder a bit before moving.