"Amazingly soft, delicious cookies! When I made this, I used Ghirardelli chocolate and was just short on the called-for amount of pecans. The dough was really hard after refrigerating overnight, and I found it easier to roll it into balls by hand rather than the ice cream scoop. I adopted this recipe after its original poster, Mean Chef, departed the site. Mean posted the recipe on Feb 12, 2003."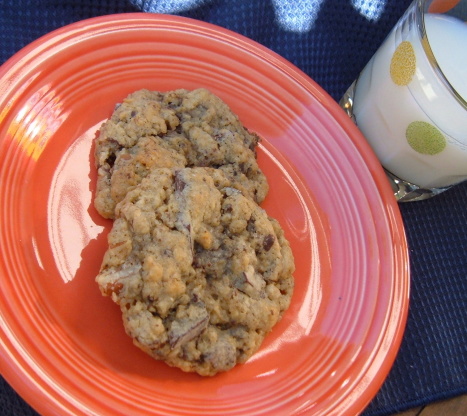 Mean Chef's Oatmeal Pecan Chocolate Chunk Cookies
3 recipe photos
Directions
In a medium bowl, whisk together flour, salt, baking powder, and baking soda.
Set dry ingredients aside.
In the bowl of an electric mixer, combine butter with both sugars; beat until light and fluffy.
Add vanilla, milk, and eggs; mix well.
Add reserved dry ingredients, and beat until just combined.
Remove bowl from mixer, and fold in oats, chocolate, and pecans.
Place dough in the refrigerator until firm, at least 2 hours or overnight.
Heat oven to 350°.
Line two baking sheets with parchment paper, and set aside.
Remove dough from refrigerator.
Using an ice-cream scoop, shape into 2-inch-diameter balls.
Place six balls on each baking sheet, spaced 4 inches apart, and press down Transfer to oven.
Bake until golden, but still soft in center, 15 to 16 minutes.
Remove from oven, and place on a wire rack to cool completely.
Repeat with remaining dough.
Store in an airtight container up to 2 days.