"I love this recipe. My very dear friend in Atlanta makes these when we come to visit. Her family secret is to bake these in a very hot, oiled black cast iron skillet. Have some fresh creamy butter and blackberry jam or honey close by - they may not make it to the table!"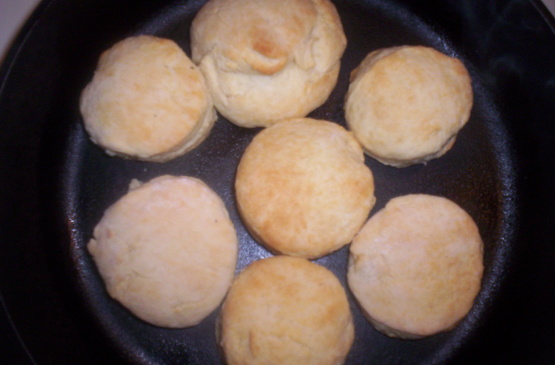 Melanie's Southern Biscuits
1 recipe photo
Directions
Mix the dry ingredients together in a mixing bowl.
Blend in the 2 Tablespoons Crisco until the mixture is coarse and grainy, using a fork or pastry blender.
With a fork, stir in the buttermilk.
DO NOT OVERMIX.
On a floured board pour dough out and knead 4-5 times.
Pat the dough out to about 1/2-inch thick.
Cut with biscuit cutter or a floured dipped glass into rounds or pizza cutter for squares.
It is very important not to handle the dough too much as it will get tough.
Place 1 Tablespoon Crisco in heavy black cast iron skillet; place in pre-heated 500º oven for 5-6 minutes.
Crisco and skillet should be very hot.
Remove skillet from oven and place the biscuits in the skillet, turning each once in the oil.
Bake for 10 minutes or till light brown.