Want more from Genius Kitchen?
Watch on your Apple TV, Roku, or Fire TV and your iOS, Fire, or Android device.
Learn More
"Make dessert extra fin-tastic with these light and fluffy funfetti cake pops, they are as delicious as they are adorable!"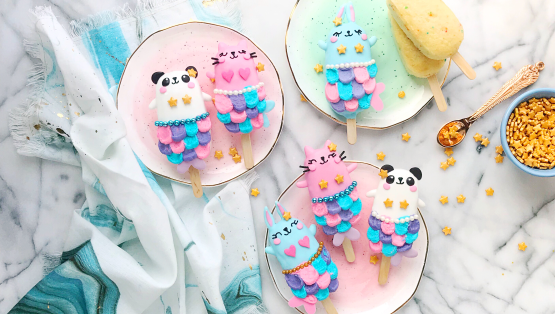 Mermaid Animal Cake Popsicles
17 recipe photos
Confetti Cake Pops

1

(15 1/4 ounce) box cake mix, Funfetti (confetti)

4

whole eggs

1

cup whole milk

Vanilla Buttercream Frosting

1

cup unsalted butter, softened

1

tablespoon pure vanilla extract
3 1⁄2 cups powdered sugar

2

tablespoons whole milk

5

tablespoons food coloring, Pink icing color, Sky Blue icing color, Lavender icing color and 3 large zip top bags or piping bags

Mermaid Decorations

2

(12 ounce) bagsbright white chocolate candy melts

1

(12 ounce) bagblue chocolate candy melts

1

(12 ounce) bagbright pink chocolate candy melts

0.25

(12 ounce) baglavender chocolate candy melts

0.25

(12 ounce) bagblack chocolate candy melts

4

ounces bright white fondant

sprinkles and frosting, see below
Directions
Confetti Cake Pop Tools:
Nonstick baking spray.
Popsicle shaped silicone mold.
20 popsicle sticks.
Mermaid Decoration Tools:
Paramount crystals or vegetable oil* (optional to thin and smooth the melts).
Black decorating icing fitted with coupler and size 1 small round piping tip.
Gold star sprinkles.
Pink heart sprinkles.
Chocolate sprinkles, long.
Multicolored pearl sprinkles (I used blue, white and gold).
Toothpicks.
Wax paper.
Cake Pops:
Preheat your oven to 350 degrees F. Generously coat your cake popsicle molds with nonstick baking spray, and place them on a baking sheet lined with parchment paper. Add the cake mix, eggs, and whole milk to a medium sized mixing bowl and whisk for 2 minutes. Transfer the batter to either a large zip top bag or a piping bag (I like to use a wide mouth glass or jar to hold the bag while filling it with batter). Cut a corner off the bag, and pipe the batter into each popsicle cavity filling half full. Insert a popsicle stick into each, and bake for 12-15 minutes or until a toothpick inserted into the center comes out clean. Allow the cake popsicles to cool for at least 15 minutes before gently removing from the molds and transferring to a cooling rack to cool completely.
Buttercream Frosting:
You can prepare the frosting for the mermaid's scales while waiting for the cake pops to cool. Place the softened butter in a mixing bowl, and beat, on medium speed, using a hand mixer or stand mixer for 3 minutes until the butter is light and fluffy. Add the vanilla and mix again until incorporated. Add the powdered sugar and mix again while slowly adding the milk. You will want to start on low then work your way up to about medium speed after adding the powdered sugar or else you will have a cloud of it all over your kitchen! Mix until smooth. Divide the frosting evenly among 3 small bowls. Add a little pink, sky blue, and lavender coloring to each bowl, and mix until combined. You only need a little to achieve a soft shade, and the colors will develop and deepen a bit more as you allow them to sit prior to piping.
Mermaid Decorations:
Add half a bag of the bright pink and blue candy melts to 2 separate wide mouth glass jars, and then fill the rest of each jar almost completely with white candy melts. Add 1 bag of white candy melts to a third jar. Heat each jar, in the microwave, for 1 minute at 50% power, and then stir. Continue to heat in 30-second intervals, at 50% power, stirring between each set until the candy melts are smooth and fully melted in each jar. Adding white to each color creates a pastel look. If any of your melts are still lumpy looking after melting them you can add about 2 tablespoons of paramount crystals or 1-2 teaspoons of vegetable oil to each jar. Stir it in until completely combined. If any of the melts harden while working just reheat them in 30-second intervals until smooth again.
Bunny Mermaids:
Dip all of your bunny cake pops into the melted blue candy melts. Allow the excess to drip off of the top of each before placing onto a piece of wax paper to set. If you notice any air bubbles in the coating you can pop them immediately with a toothpick. While waiting for the first coating to harden, break off about a fourth of the fondant to form the ears and paws. Roll little balls of fondant in between your thumb and pointer finger to make the paws. The ears are made by creating teardrop shapes and pinching the tops to form a point. Use a little more of the candy melts like "glue" to attach the ears and paws to the cake pops (you may have to hold the ears on for a few seconds until they set). Once all of the fondant pieces have set to the cake pops dip each pop again into the blue melts (allowing for the excess to drip off). Place them back onto the wax paper to harden completely. If you are having trouble getting the ears to stay straight you can use a marshmallow underneath the ears to prop them up while they harden. Use a little of the melted pink candy melts to make the fins, and also to add a little pink to the inside of each ear. Just dip a toothpick into the melts and use it to "draw" the design (like a flattened heart shape) onto wax paper and allow to set. Break off another smaller piece of the white fondant and mix a little of the pink icing coloring into it until combined. Form tiny balls of the pink fondant and place them onto a piece of wax paper. Flatten each ball out with your fingers to form the cheeks for each animal popsicle. Once your bunnies have set you can add the buttercream mermaid scales (no fancy piping skills required). I like to use a toothpick to draw a guideline onto each pop for the top of the mermaid's tail. Transfer each color of buttercream frosting into either a piping bag or large zip top bag and cut about 1/2 an inch off of the corner. It's easiest if you start with the cake pops upside down (the stick pointing up). Pipe large round dots, in alternating colors, across the top of each pop. Then use the back off a spoon to drag the frosting up towards the top of the animal. Continue piping and dragging the frosting as you go, alternating the colors, and slightly overlapping each row until you reach the guideline (you should have about 3 rows of scales on each cake pop). Push each fin into the buttercream scales to hold them in place. Turn the cake pops right side up, and use pearl sprinkles to form a line across the top. Use decorating icing to add the eyes and nose onto each, and a little more of the blue candy melts to attach the seashell or heart bras and hair accessories.
Cat Mermaids:
Dip all of your cat cake pops into the melted pink candy melts as you did for the bunnies. Place onto wax paper to set. Break off 1/4 piece white fondant and form the paws just like the bunnies, and the ears by pressing little balls of the fondant into a triangle between your thumbs and pointer fingers. Press down on each gently to flatten. Attach the fondant pieces to each cake pop with pink melts, and once set, dip again into the pink candy melts. Make lavender mermaid fins by heating a little of the lavender melts along with a handful of white melts in a small heatproof bowl in 30-second intervals. Once the final coating on the cake pops has hardened you can decorate them just as you did for the bunnies.
Panda Mermaids:
Dip all of the remaining cake pops into the melted white candy melts just like you did for the other 2 animals. Form paws using a little of the white fondant and attach with the white candy melts. Once the fondant pieces have set you can dip the cake pops again. The panda's ears and eyes are made using black candy melts. Melt 1/4 bag black candy melts as you did for the other colors, and then draw 2 semi circles for the ears, and 2 ovals for the eyes for each, using a toothpick, onto wax paper. Once the coating on the pops and the black candy melts have set you can use a little more of the white candy melts to attach the ears and eyes to each cake pop, and to draw the lashes onto the eyes. Decorate as you did for the other animals, admire your mer-mazing cake popsicles, and enjoy!
get the genius kitchen app.
Watch on your iPhone, iPad, Apple TV, Android, Roku, or Fire TV.
Learn More