"My mother spoke of having bonfires when she was young, growing up on Long Island. The kids would throw potatoes into the fire. She said they would be burned and hard on the outside with light fluffy potatoes on the inside. When cooked this way, the outside is very crisp and crunchy, and the inside nice and fluffy. We throw a bunch of potatoes into the oven of the wood cook stove many, many nights during the winter months. We frequently put them in the gas stove, in warmer months, when cooking a roast, or other oven dinner. But somehow, "mickies" are not the same unless cooked in our Home Comfort! We always think of Mother when we have mickies."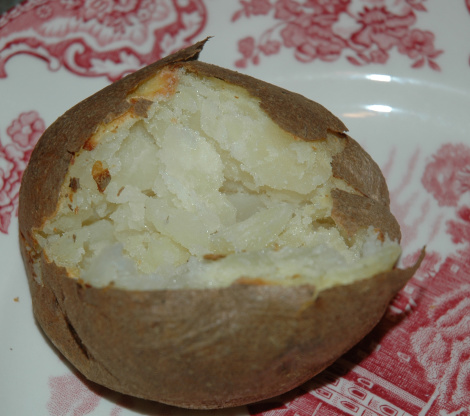 Directions
Pierce (need I say well scrubbed!) potatoes with a fork, to avoid any exploding spuds!
Place (naked potatoes) in oven without foil or any type of covering.
Bake at 400°F to 500°F for an hour, or until outside is crisp and hard.
Slit, press open, and serve with butter, salt, and sour cream.
The skin is the best part!
get the genius kitchen app.
Watch on your iPhone, iPad, Apple TV, Roku, or Fire TV.
Learn More