"This makes a whole bunch of frozen slush and I must warn you, it packs a punch. Be sure to take away your guest's keys before serving this! I got this from the Best of Bridge and I was inspired to post this by Rita L's Passion Punch recipe (#66869)that I recently made. Although the ingredients are completely different, the slush aspect of it is the same. I remember drinking this on hot summer nights at BBQ's and patio parties. You can scoop out a couple scoops of the slush, put in a glass and add 7 Up, Gingerale or soda water OR once you make it into a slush, pour it into a punch bowl and add the pop to it. Either way, it's yummy, refreshing and you may have to make room for your guests to crash on the couch! Cooking time is freezing time."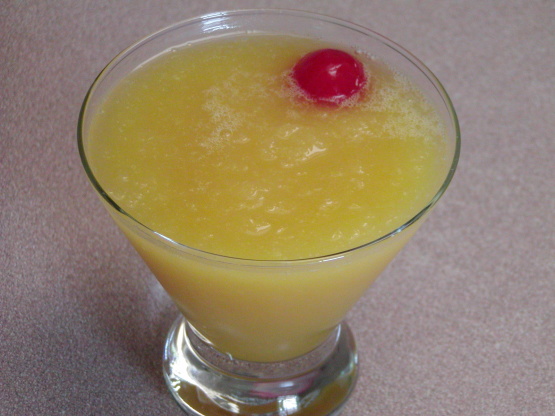 Mid-summer Madness Slush or Punch (alcoholic)
1 recipe photo
2

cups apricot brandy

1

(48 ounce) can pineapple juice

1

(48 ounce) can apricot nectar (I think this is only available in Canada, so other nationalities can use a passion fruit juice)

1

(16 ounce) canalmost thawed frozen orange juice concentrate (don't add water)

1

(16 ounce) canalmost thawed frozen lemonade concentrate (don't add water)

2

(2 liter) bottles 7-Up soda or 2 (2 liter) bottles ginger ale or 2 (2 liter) bottles soda water

Garnish if serving in punch bowl

1

lemon (optional)

1

lime (optional)

1

orange (optional)
Directions
Mix all together in a 1 gallon freezable container or ice cream bucket and freeze until slushy.
To serve: Scoop 2 parts slush to one part 7 Up, Gingerale or Soda Water OR Scoop slush into a large punch bowl and add 7 Up, Gingerale or Soda Water.
Garnish with lemons, limes and oranges (or any other fruit you prefer).
Try putting half the slush into the punch bowl and add one bottle of pop to test your alcohol/mix taste requirements.
AS a warning, it does not have a strong alcohol taste!
I prefer using the scoop in the glass method to making it in a punch bowl because like all punches with pop, the pop eventually goes flat.
This stays in the freezer well and if your guests don't guzzle it all (fat chance on that one!), you can easily serve it again in the near future.
Enjoy!