"This is my own incarnation of a recipe from the John Madden Cookbook. I just recently added corn and potatoes to it to try something different, and the experiment was a success! What makes it unique though is that it is a "white" chili, as opposed to the more common red chili that most people make."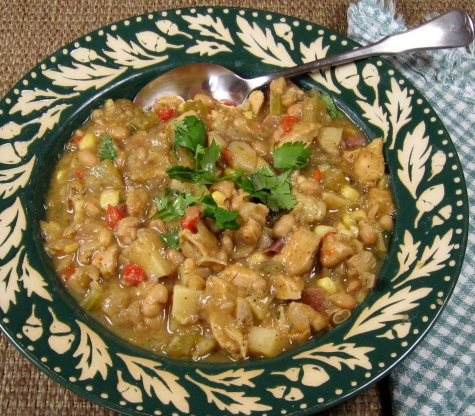 Midwestern White Chicken Chili
4 recipe photos
READY IN:

1hr 35mins

SERVES:

20

UNITS:

Metric
Directions
Slice the chicken breasts into 1/2 inch cubes. In a large stew pot, heat a little bit of olive oil in the bottom of the pot and brown the chicken. While the chicken is browning, chop the onions, peppers, and celery. Remove chicken and set aside.
Add the rest of the olive oil and the butter, and saute the onions, peppers, and celery for about 10 minutes. Add the garlic for the last 2 minutes, and then add the broth and water (I use the broth cans to measure the water), and add the chicken back into the pot.
Now is the time to stir in the navy beans. Randall's brand in the big glass jar seems to taste the best and be the easiest for me. I've tried dried beans before too with good results - if you have the time to soak them the night before.
This is about the time to add all the seasonings - salt, pepper, and cumin. Hickory salt is good in this, it gives the chili a little darker color and gives it a little bit of smoke flavor. Cumin is really the secret ingredient though. The cumin gives it the chili taste without using chili powder, and makes a yellow broth instead of a dark red one. My spice measurements are guesstimates though, as I always season until it tastes just right.
While all this is coming to a boil, peel the potatoes, and cut them into small (3/8 inch) chunks. Add the corn and potatoes into the mix. I used frozen sweet corn that I had put up from my garden this summer and the results were delicious. I don't recommend canned corn, but I never have been a big fan of canned corn for some reason. Add a little more water if needed, if the chili looks too thick to cook for a while.
Now just sit back, turn the heat down to medium and let it all simmer for about 45 minutes while stirring occasionally.
Turn off the heat and let it cool for a few minutes. Now it's ready to serve. Top with the shredded cheese and your favorite hot sauce and you're good to go. This recipe is great for game day parties, and also re-heats well for the next day, as any true chili should.