"Turn canned salmon into a real tasty treat! Eating Salmon doesn't have to be expensive (Canned Salmon is about 75% less than market fresh!)! This recipe not only stretches Salmon, but makes a nutritious and filling main course! Just remember to be very careful with the salt or other seasonings/spices, it/they can over power the taste of Salmon! You want a balanced Salmon and green onion flavor with any seasoning as an accent. Be careful to not over mix, as you will lose texture of the fish itself."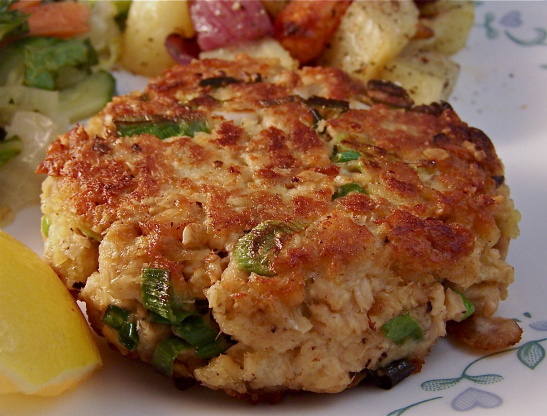 Mikey's Salmon Patties
1 recipe photo
418.15

g can salmon

1

piece white bread

1

egg

29.58

ml oats

1.23

ml garlic salt

1.23

ml Lawry's Seasoned Salt

4.92

ml vegetable oil
Directions
Open the can of Salmon, and place in a container to separate bones from meat of the fish.
Carefully separate the small rib and spinal vertebrae bones from the fish, taking care to keep as much large chunks of the fish as possible.
Place the separated fish into a mixing bowl large enough to hand mix all ingredients, but do not add them all just yet.
Tear your slice of white bread into tiny chunks carefully so as not to smoosh or reduce the natural volume of the bread, and add to mixing bowl. (smooshing the bread will create doughy lumps later on!).
Crack your egg and drop egg matter into mixing bowl, throwing away the egg shell. Be careful to not let little bits of egg shell drop into or get into the mix.
Carefully clean and discard the outer bad or useless areas of your green onions, slice thinly and add to mixing bowl.
Add oats and seasoning.
Hand mix all ingredients in mixing bowl slowly and with care, to preserve texture of fish as much as possible.
You want to break up the large chunks, but you don't want to mix everything so long that it turns into a large lump or ball, you want to see the texture of the fish. If you mix too little, the mix will not form into a patty right, nor hold together when you pan fry them and attempt to turn them.
Add your teaspoon of vegetable oil to a medium to large skillet, and heat on medium for 3-4 minutes unless it starts to get obviously too hot, then reduce heat a bit. You don't want the oil too hot so as to not burn or scorch the patties. BE CAREFUL TO NOT OVERHEAT OIL! HOT OIL BURNS VERY WELL! FLAMES WILL RESULT!
Separate the completed mix into two or three portions.
Shape each portion into a patty, and carefully place in warmed and oiled skillet.
Let patties fry for a minute or two at the medium heat, then reduce and fry for another 2-3 minutes or until medium brown on one side.
Turn each patty and fry or brown for 2-3 minutes.
After the 2-3 minute browning of each side, turn over one last time, and reduce heat to low. Cook for 3-4 minutes with a lid on.
Please note that cooking times and heat will vary on your stove, so be prepared to think and react quickly.
HINTS:.
I have successfully stretched this recipe further by adding two slices of white bread and a little more oats and one more egg. If you do this, you can pretty much forget all the emphasis on fish texture and just go for broke, they will taste just fine. :).
For spice or taste variation, try a few drops of fresh lemon juice on a patty! :).
Also, to warm things up, try a pinch or two of Cayenne pepper!
Enjoy, this is my original recipe, I have been making these for years! :).
get the genius kitchen app.
Watch on your iPhone, iPad, Apple TV, Roku, or Fire TV.
Learn More