"These sound yummy! Untried by me, posted for ZWT. Adapted from "Vefa's Kitchen". Note that prep time includes chilling time for the dough."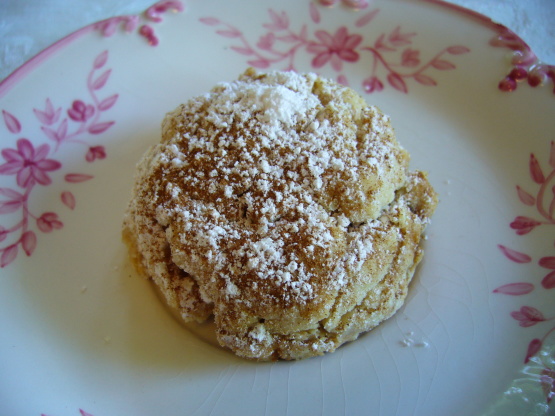 Milopitakia (Greek Apple-Filled Cookies)
2 recipe photos
Directions
DOUGH:.
Sift the flour into a large mixing bowl. Cut in the diced butter with a pastry blender or two knives until the mixture resembles coarse crumbs.
Lightly stir in the yogurt, mixing until the dough just begins to come together (it should feel crumbly). Don't knead the dough, just gather all the crumbs and press them into a ball with your hands.
Cover and chill for 30 minutes.
FILLING:.
While dough is chilling, put the apples, lemon juice and superfine sugar in a small pan over low heat. Cook, stirring constantly, until all the liquid has evaporated. Remove from the heat and stir in all the remaining filling ingredients (spices and walnuts).
ASSEMBLY:.
Preheat the oven to 350 deg. F. Grease two large baking sheets with butter.
Divide the dough into 30 pieces. Roll each piece into a ball, then press your thumb into the ball to form a large hollow. Spoon the filling mixture into the hollows and press dough around it to seal it inches.
Very gently press the filled cookies down to flatten them out a bit, but not so much that your filling leaks out. Place the balls on the baking sheets, seam side down, and bake them for about 35 minutes, or until lightly golden.
Remove cookies from oven. Sift confectioners sugar and cinnamon over warm cookies, then allow to cool.
Cookies keep for about 3 days at room temperature, or they can be frozen for several months.