"These are delicious and freeze well as they make quite a few. I freeze them in individual baggies and then in a larger freezer ziplock bag. I got the recipe from one of my wonderful muffin books after trying others. They are nice and moist and taste good."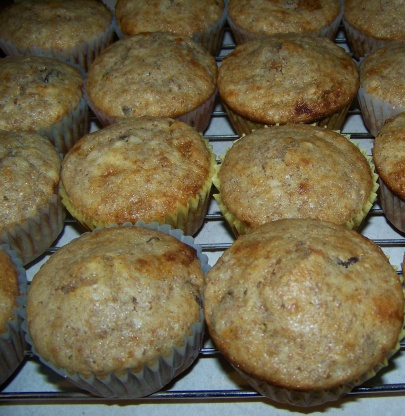 Mimi's Delicious Bran Muffins
2 recipe photos
Directions
In a large bowl combine the cereal and buttermilk; mix well.
Let stand for 5 minutes till cereal is softened.
Blend in the oil and eggs.
Add the flour, sugar, soda, powder, salt, and raisins.
NOTE: Muffins should always be stirred in one direction only so as not to break down the batter.
Put paper liners in the tins and spray lightly with vegetable spray.
Fill 3/4 full.
Bake 400 degrees for 18-20 minutes.
The batter may be stored for up to a week in refrigerator, but I bake all of them at once and freeze them.
Yield: about 30 muffins.