"These are huge cookies that the kids will love to get their little hands on. They are great to take to picnics or gatherings. I used to take them to Sunday School picnics when my grandkids were little. I even did a double batch for a treat at AWANA. Adults like them, too. They have delicious flavor. You may notice that there is no flour in the recipe--that is correct--there is no flour. The oats bind it together."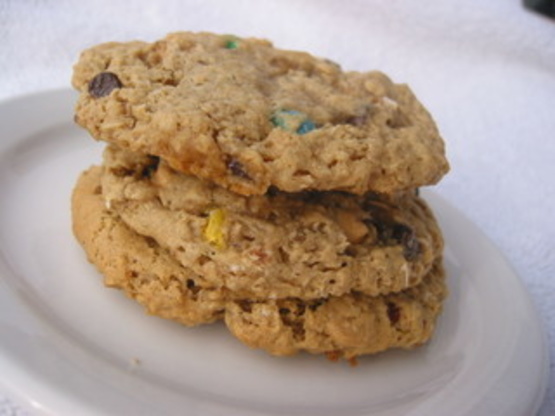 Mimi's Monster Cookies
1 recipe photo
Directions
In a large bowl with mixer at medium speed, beat together the first 4 ingredients till light and fluffy.
Add eggs and vanilla; beat 2 minutes.
Blend in baking soda.
Stir in oats and remaining ingredients.
Dough will be very stiff and crumbly.
Drop dough by 1/3 cup measures, 4" apart on a ungreased baking sheet.
Flatten with a spatula to 3 1/2" cookies.
Bake in 350 oven for 12-14 minutes or till golden.
Remove and cool on racks.
NOTE:.
If you need more than 22 cookies, you may use a 1/4 cup measure, but they will not be quite as huge as the other measure.