"At Christmas time we love to serve our visitors these tiny Christmas cakes, baked in muffin tins. They're easy to make, dark, moist and full of flavour. Start this recipe at least one day ahead as the fruit needs to soak overnight. Preparation time does not include this step."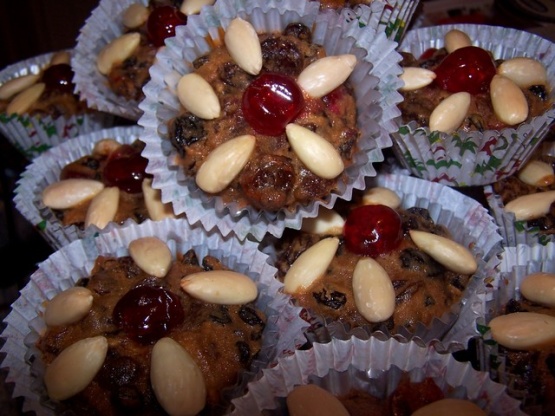 Mini Christmas Cakes
4 recipe photos
1 1⁄2

kg mixed dried fruit

50

ml dark rum (I buy a miniature bottle of rum)

4

large eggs, lightly beaten

1

granny smith apple, peeled and grated

1

cup brown sugar, firmly packed (I use dark, muscavado sugar, but normal light brown sugar will do)

250

g butter, melted
1 1⁄2 cups plain flour
1⁄2 cup self-raising flour

200

g blanched almonds

150

g glace cherries

64 -72

paper baking cups
Directions
Place mixed fruit into a very large basin.
Add rum and mix well.
Cover with plastic wrap and allow to stand overnight.
The next day, preheat oven to 150°C (300°F) and arrange oven racks to accommodate muffin tins in the centre section of the oven.
Place 2 muffin cases into each hole of 2 or 3, 12 hole muffin tins.
One ingredient at a time, add the beaten eggs, grated apple, treacle and sugar to the fruit mixture, mixing well with a wooden spoon after each addition.
Add cooled, melted butter and sifted flours and mix thoroughly.
If you're making these instead of a Christmas cake, make sure to let every member of the family have a stir of the mixture while they make a Christmas wish.
Spoon the mixture into the muffin cases, filling to almost full.
Use the back of a spoon to smooth the top of each cake.
Press a glace cherry into the centre of each cake and, around each cherry, press in 5 almonds to make 'petals'- pointy end closest to the cherry.
Bake, in batches if necessary, at 150°C (300°F) for about 40-45 minutes or until a skewer inserted into the centre of a cake comes out clean.
When cooked, remove muffin tins from the oven, remove cakes in their papers from muffin tins and cool on racks.
When cakes are completely cool, store in airtight tins and keep in a cool place or, if you're in a warm climate, store in the refrigerator.
Alternatively, wrap each cake, still in its paper, tightly in plastic wrap, pack into plastic freezer bags and freeze.
Cakes will keep for at least a month if stored correctly or longer if frozen.