"I often get a lot of comments about these mini fruit puddings but I never give my secret away (I'm actually cheating). I don't use alcohol so I use cranberry Juice. Fun for the kids to help. This recipe was given to me from an old work mate. Thanks CC."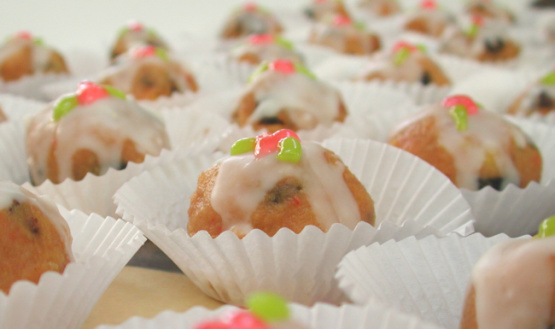 Mini Christmas Fruit Puddings
4 recipe photos
Mixture

400

g fruitcake, pre-made

60

g Copha, melted

1

tablespoon brandy or 1 tablespoon orange juice or 1 tablespoon cranberry juice

Topping

30

g Copha, melted

40

g white chocolate, melted

10

red glazed cherries, for decoration purpose so anyting that is edible which are christmas colors (red or green)
Directions
Mixture:.
Crumble Fruit Cake in a bowl.
Add Copha.
Add Liquid.
Mix ingredients (Mixture should be moist, if to dry add more liquid, if to moist add more fruit cake).
Make mixture into little balls.
Topping:.
Melt the white chocolate
Add Melted Copha with chocolate and mix together.
Cut decorations into small (mini) pieces.
Putting it together.
Place balls on serving plate or petite patty pans.
Dribble a small amount of white chocolate on the top.
Add the small decoration.
Refrigerate until ready to serve.