"I decided to make traditional leek tart in a slightly non traditional way, few mini tarts instead of one, big round tart. I made it that way so my other half would eat it too. He's not much of a veggie guy so I mixed in some ham to his portion. That way I had my vegetarian leek tarts and he had ham and leek ones."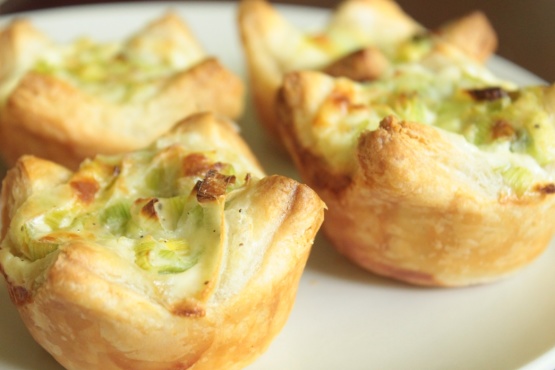 Mini Leek Tarts
1 recipe photo
Directions
Chop of the green part from leek and cut lengthwise. Slice finely and in a sieve run under cold running water to clean from the soil dirt.
On a skillet melt the butter and add leeks. Add salt, pepper and sweat few minutes until soft.
In a bowl combine half & half, egg and shredded cheese. Add salt pepper and mix together. Add leek and stir the mixture around.
Roll out the puff pastry and cut out nine uniform squares. Place each square in the muffin pan like on a picture.
Spoon the mixture into each tart and bake in the oven preheated to 400ËšF for 30-40 min until the edges are nicely brown. Let cool slightly and transfer each tart to a plate.