"These are good to make in advance then freeze until you need them. Note: This recipe doesn't calculate the net crabs for low-sugar ketchup nor the sugar blend. Add 2.5 net crabs per serving for a total of 8 carbs per meatloaf."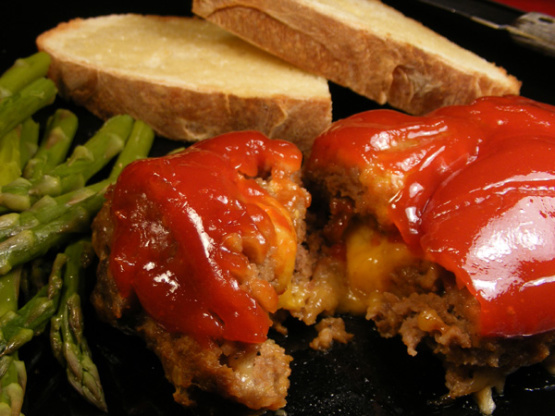 Mini Meatloaf - Low Carb
1 recipe photo
Directions
Preheat the oven to 350°F Spray a baking dish with cooking spray. (Make sure it has sides so the grease doesn't drip into your oven).
Cut the 4 oz of cheese into 4 equal parts, longways. Mix together the ingredients for the sauce. Set both aside for later.
Using your hands, mix the remaining ingredients together in a large bowl. Divide the mixture into 4 equal parts.
Take the divided amount & shape it around 1 chunk of cheese, making it into a loaf shape.
Place into the baking dish then repeat with the other 3. Brush the sauce over all 4 meatloaves.
Bake in the oven for 35-40 minutes then drain off any excess grease. Serve immediately or let cool then freeze in individual containers for later use.