"Nutella should be in a food group all by itself. Doubled the recipe for a small party-I thought they looked very elegant with the chopped hazelnuts on top and tasted like I fussed but oh so EASY! From the book "Desserts 4 Today: Flavorful Desserts With Just Four Ingredients" by Abigail Johnson Dodge."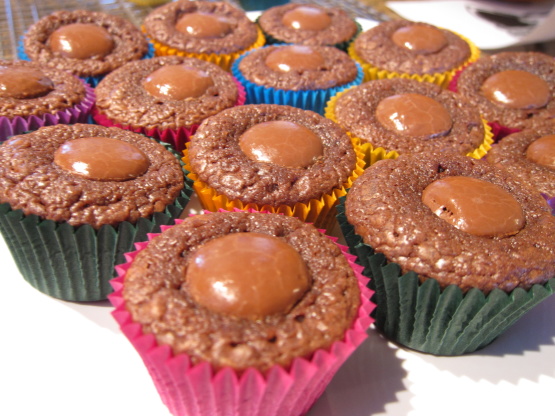 Mini Nutella Brownies-4 Ingredients
1 recipe photo
Directions
Preheat oven to 350 degrees. Use paper or foil liners in a 12-cup mini muffin pan.
Add the Nutella spread and egg to a medium bowl and whisk until well blended. Whisk in the flour until well blended. (If you aren't adding any chopped nuts to the top of the brownies, the author suggests adding 1/4 teaspoon ground cinnamon to the flour).
Spoon the batter into each prepared muffin tin (about 3/4 full) and sprinkle each with some of the chopped nuts.
Bake for 11-12 minutes. Cool completely on a rack.