"**NOTE: The nutritional value calculated by this website is WAY off! The real numbers are as follows: 1 tart = 228cals, 11.4g fat, and 28.8g carb** Adapted from a friend's recipe, these are a slightly slimmer, individually portioned cheesecakes to help satisfy the craving without the full-fat guilt! Who said slimmer couldn't be tasty?"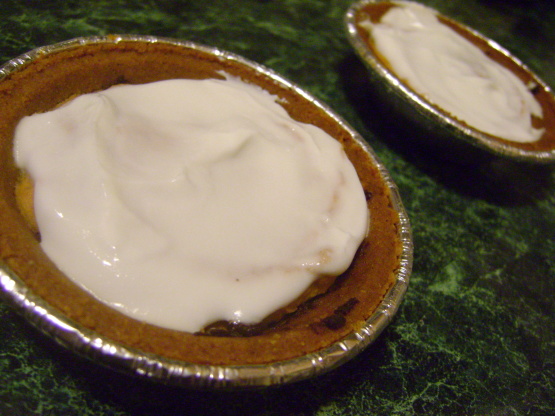 Mini Triple-Layered Pumpkin Cheesecakes
1 recipe photo
Directions
**NOTE: The nutritional value calculated by this website is WAY off! The real numbers are as follows: 1 tart = 228cals, 11.4g fat, and 28.8g carb. Not bad for cheesecake ;)**.
Preheat oven to 350º.
In a double boiler, begin to melt the chocolate chips. Once the chips begin to melt, add light butter and milk, stirring occasionally. Once melted, take off the heat and let cool for a couple minutes.
Meanwhile, in a mixing bowl combine pumpkin purée, cream cheese, egg substitute, cinnamon, nutmeg, ginger, 2 teaspoons sugar, vanilla extract and a pinch of salt. Beat until well combined.
Once chocolate mixture has slightly cooled, combine it with 1/2 the pumpkin mixture. (Reserve remaining pumpkin.) Fold to incorporate chocolate and pumpkin. Spoon into tart shells (about 1 - 2 tbsp each), filling tart shells about 1/3 the way full. Smooth chocolate mixture to ensure even thickness within the tart shells. Place tart shells on large metal baking sheet and bake on middle rack of oven for 5-7 minutes.
Once tart shells and chocolate mixture have par-baked, remove from oven and let rest on cooling rack for 15 minutes. Once cooled, spoon in reserved pumpkin mixture, almost completely filling the rest of the tart shells. Put tarts back on metal baking sheet and bake for an additional 10-13 minutes.
Remove from oven and place on cooling rack for about 45 minutes.
Meanwhile, in a microwave safe bowl or in a double boiler, gently heat sour cream until it is runny. Stir in 2 1/2 teaspoons sugar and heat through. Let rest for 5 minutes. Spoon on top of each cooled cheesecake tart, cover in tinfoil and refrigerate until ready to serve.
get the genius kitchen app.
Watch on your iPhone, iPad, Apple TV, Roku, or Fire TV.
Learn More