"ZWT6 Isle of Man. "The combination of these flavours come together to make a really mouth watering treat. Tip: Prepare the lamb chops and the marinade 24 hours before serving. Or if your in a rush at least 4 hours" By gourmetshark on http://isleofmanfood.com."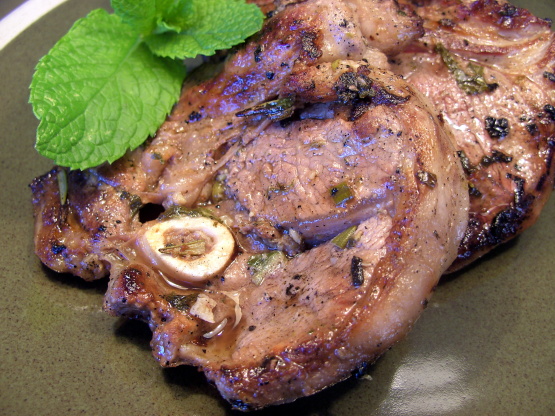 Minty Manx Lamb Chops With Rosemary
1 recipe photo
Directions
Whizz all the above ingredients together except the lamb chops or mash them up using a mortar and pestel until its nice paste.
In a large plastic bag or bowl, mix the lamb chops with the marinade and either seal or cover. Then place in the fridge for at least 4 hours up to 24 hours.
Tip: Before you cook the lamb, remove it from the fridge and leave it to site for half an hour before cooking.
Get a frying pan or griddle pan and get this really really hot, the hotter the better.
Place lamb chops on the griddle pan and fry these for about 4-5 minutes each side or till they are to your required doneness (I like it a little pink in the middle, but not underdone.).
Serve with potatoes of your choice and seasonal vegetables, I used roasted parsnip, roasted potatoes and some Kurly Kale.