"This is the first food that I ever made. I felt like such a "big girl" rolling a peanut butter coated banana in raisins the way that Mister Rogers taught me. Healthy and delicious snack, dessert, or breakfast for little and big kids."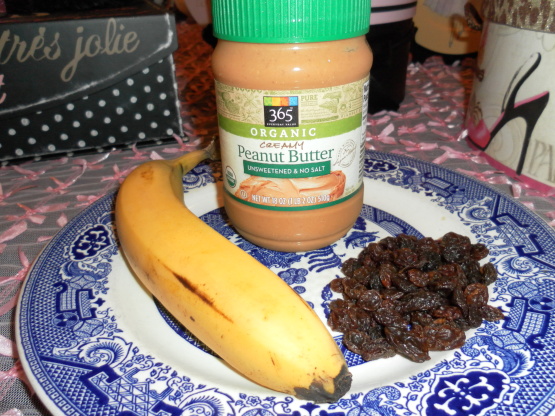 Mister Rogers' Neighborhood Peanut Butter Banana Raisin Snack
1 recipe photo
Directions
Wash hands. Give your child a banana and show how to peel it. Spread peanut butter on all sides of banana using a dull butter knife or spoon.
Sprinkle raisins on a plate and roll peanut butter coated banana in raisins or sprinkle all sides of peanut butter coated banana with raisins (rolling the banana is messier). Eat with fingers. Wash hands. Note: Amounts for peanut butter and raisins are approximate.
Fun Tip: Children are curious about the insides-especially when those things are hidden. When they peel a banana, they see that there's something very different on the inside. The peeling is a protection for the banana. What other foods do they know that have a peel? What kind of fruit becomes a raisin? How does a grape become a raisin?