"The original recipe was for mocha shortbread (from a mini book called Elinor Klivans Cookies) As I was giving some to other people, I used chocolate instead as I thought it would be a safer bet. So I subsituted the instant coffee for good quality cocoa powder. As I was mixing it all by hand I dissolved the cocoa in hot water so it was easier to cream with the butter! The recipe is for shortbread fingers but I also made some xmas shapes. When the shapes came out they had lost the definition so I scraped off some edges with a serated knife to get a better shape. I doubled up the recipe but didn't need to double up the melted chocolate as it was plenty. I think I'll make these next year too!"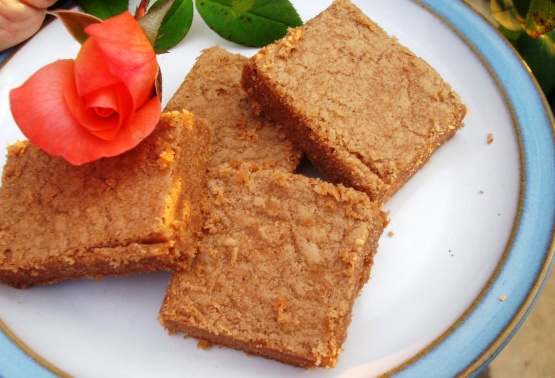 Mocha or Chocolate Shortbread
3 recipe photos
Directions
Preheat oven to 150°C / 300°F / Gas mark 2.
Sift flour, cornflour, baking powder and salt together then set aside.
Cream the butter and the dissolved coffee.
Add the icing sugar and beat until smooth.
Add the flour mixture and mix until a dough forms.
Transfer the dough to greaseproof paper and press out into a rectangle about 1cm / 1/2-inch thick.
Cut into strips about 2 x 6 cm / 3/4 x 2 1/2-inches.
Lift the strips from the paper and place about 2.5cm / 1-inch apart on ungreased baking sheets.
Bake for 30 minutes (NOTE: To check cooked properly I inserted a tail stick and if it came out clean plus make a little crunch when inserted they were done).
Leave to cool for 10 minutes on baking sheet and then 10 minutes or so on wire racks to cool completely.
Melt the chocolate - chop into 1cm / 1.2-inch pieces then in a bowl placed over a saucepan of hot (not boiling water). Stir the chocolate often until all melted and smooth.
Dip the shortbread ends into the melted chocolate and then remove excess chocolate by dragging over the edge of the bowl.
Leave on wire racks until the chocolate sets (NOTE: This took quite a while for me so left them covered overnight).