"Came up with this when making Dandelion Jam and drinking a mojito. Try some on a fresh grilled tuna steak, lamb or pork chops, melt and mix into a fruit salad, add to home made salad dressing or add to a salsa... Great for gift giving."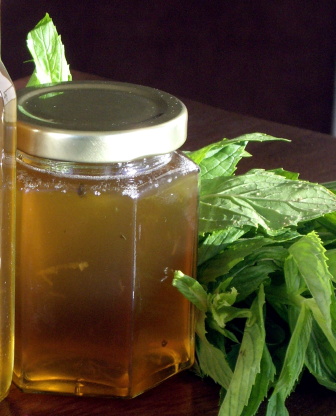 Mojito Jelly - Lime and Mint Jelly
1 recipe photo
Directions
Prepare boiling water canner. Heat 5(8 oz) half pint glass preserving jars with lids and bands in simmering water until ready for use. Do not boil. Set bands aside.
Combine mint and water in a large pot. Simmer covered, about 20 minutes. Strain.
Return mint infused water to a large pot; boil until reduced to 3 cups. Add sugar, stirring to dissolve. Stir in lemon zest and lime juice. Bring to a boil. Stir in liquid pectin. Bring to a rolling boil. Boil hard for 1 minute.
Remove from heat. Skim foam if necessary. Stir in a few drops of food coloring, if desired.
Carefully ladle hot jelly into hot jars, leaving 1/4-inch headspace. Wipe rim and threads of jar with a clean damp cloth. Place lid on jars and then screw band down evenly and firmly just until a point of resistance is met-fingertip tight.
Process 10 minutes in a boiling-water canner adjusting for altitude. Remove jars and cool. Check lids for seal after 24 hours. Lid should not flex up and down when center is pressed. Label.