Want more from Genius Kitchen?
Watch on your Apple TV, Roku, or Fire TV and your iOS, Fire, or Android device.
Learn More
"Adapted from Emeril's recipe, on FoodNetwork,Tequila Marinated Chicken in Mole Sauce, the first step in creating Mole Sauce is to make this paste, which yields 3 1/2 cups. The paste is then further combined with additional chocolate and chicken stock to make an exquisitely complex Mole Sauce to serve with roasted chicken, turkey, pork, fish, Emeril's Tequila Marinated Chicken or in enchiladas. Garnish with the usual in Mexican cuisine, diced avocado, corn tortillas, cilantro, and pickled onion. Since only about a cup is used at a time, the remainder freezes well for use at a later time. I will try this with duck and/or rabbit and get back with you on this one."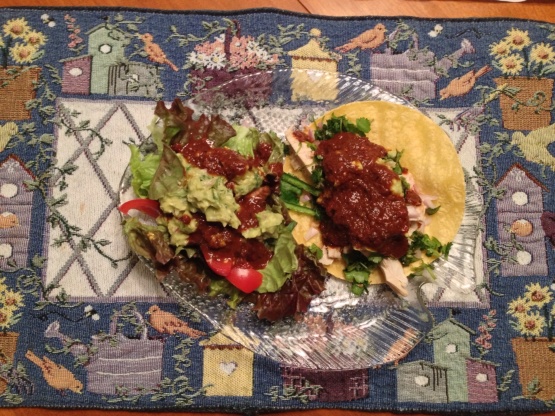 Mole Paste (Used for Making Mole Sauce)
2 recipe photos
2

large tomatoes, cored, cut in half, seeds removed (1 1/4 pounds)

1

medium onion, peeled and cut into 1-inch chunks

10

garlic cloves, unpeeled

10

dried ancho chiles, stem removed, seeds reserved

5

dried guajillo chilies, stem removed, seeds reserved

1⁄4 cup sesame seeds

1

tablespoon black peppercorns

1

cinnamon stick, about 2 inches long

2

teaspoons dried Mexican oregano

2

teaspoons dried thyme
1⁄4

cup toasted almond

1⁄4

cup dry roasted peanuts

1⁄4 cup raisins

1

cup chicken stock (plus a little more if necessary)

3

tablespoons cooking oil

3 1⁄2

ounces mexican chocolate, chopped

1

tablespoon cooking oil

1

(14 1/2 ounce) can fire-roasted tomatoes, pureed in blender

1

cup mole, from recipe above

1 -1 1⁄2

cup chicken stock

1⁄2

ounce mexican chocolate, chopped
Directions
Preheat broiler and line a large baking sheet with parchment paper. Broil garlic cloves, tomatoes and onions. Remove garlic cloves after they have softened, about 10-12 minutes and continue broiling the tomatoes and onions until slightly caramelized.
Heat a large skillet and toast the chilies until just browned and fragrant, being careful not to burn. Place toasted chili pods in a large glass bowl and cover with hot water, allowing to soften.
In same skillet toast reserved seeds from chilies and sesame seeds, then transfer to a separate bowl.
With skillet still hot, toast the cloves, peppercorns, oregano, thyme, and cinnamon stick a few seconds until fragrant. Then add to bowl with toasted sesame and chili seeds.
Once garlic cloves have cooled, peel them and combine in blender with the tomatoes and onions, rehydrated chili pods (do not add in the rehydrating liquid), the toasted seeds and toasted spices, along with the nuts, raisins, and about 1 cup of chicken stock. Puree until smooth and thick, scraping down the sides. (After first trying a food processor, we were able to get a smoother puree using a Ninja style blender).
In a large deep pot, heat the cooking oil (I used peanut oil). Once hot, add in the pureed mixture, being careful to avoid splatter burns. Once mixture has come to a boil, lower heat, bring to a simmer and then add 3 1/2 ounces chocolate to the pot.
Allow to simmer, stirring frequently, for about an hour until a deeply rich reddish brown shimmer has developed. (I love watching Rick Bayless on the Create Network cook this over an open fire in a large cazuela).
Use about a cup of this paste to make your Mole Sauce. Freeze the remainder away in 1 cup containers for a later use.
*********************************************************************.
To make Mole Sauce, heat about 1 tablespoon oil in large deep sauce pan.
Add pureed fire-roasted tomatoes and saute a few minutes.
Add 1 cup of Mole Paste.
Stir in remaining 1 cup chicken stock, bring to boil and reduce heat to simmer.
Add in 1/2 oz of chopped chocolate. Continue to simmer and add additional stock if necessary, until a suitable consistency, then keep warm until ready to serve.
Enjoy with grilled/roasted chicken, turkey, pork, variations with fish, or use to make enchiladas. Delicious with grilled chicken but my goal is to make this with rabbit and/or duck.
get the genius kitchen app.
Watch on your iPhone, iPad, Apple TV, Android, Roku, or Fire TV.
Learn More