"Originally from Florence Fiorvante of Jackson Heights, NY. You can make this recipe complete with a tomato sauce, or just follow the instructions through the first step and then add to your own favorite sauce. The meatballs themselves are delicious. Woman's World Magazine, September 28, 2004."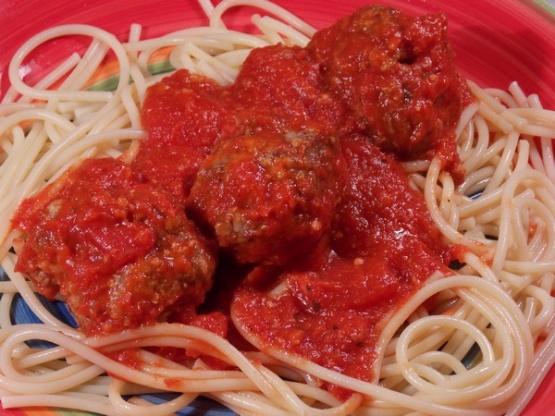 Mom's Famous Meatballs
1 recipe photo
Directions
Combine first 6 ingredients with 1/4 cup basil. Shape into 16 meatballs.
In nonstick skillet, heat 1 T. oil over medium heat. Add half of meatballs; cook, turning once, until browned, 3 minutes per side. Remove from pan. Repeat with remaining oil and meatballs. (Stop at this point if you are making your own sauce, add meatballs to your sauce and cook for 45 minutes or so).
To skillet add garlic. Cook until lightly browned,1 minute. Stir in tomato paste. Fill paste can halfway with water; stir into mixture.
In pot over medium heat combine crushed tomatoes and paste mixture. Stir in sugar and remaining basil. Bring to simmer; add meatballs. Partially cover; cook until meatballs are no longer pink inside, 45 minutes.